About This Exhibition:
Old College Gallery is open Tuesday through Saturday from 10 a.m. to 4 p.m. The gallery is open to the public, and admission is free. Please observe the University's current COVID-19 health and safety protocols when visiting. At this time, that includes wearing a mask indoors, regardless of vaccination status, and completing the Daily Health Screening ahead of your visit.
Art, Artifacts and Specimens from the Collectors Cabinet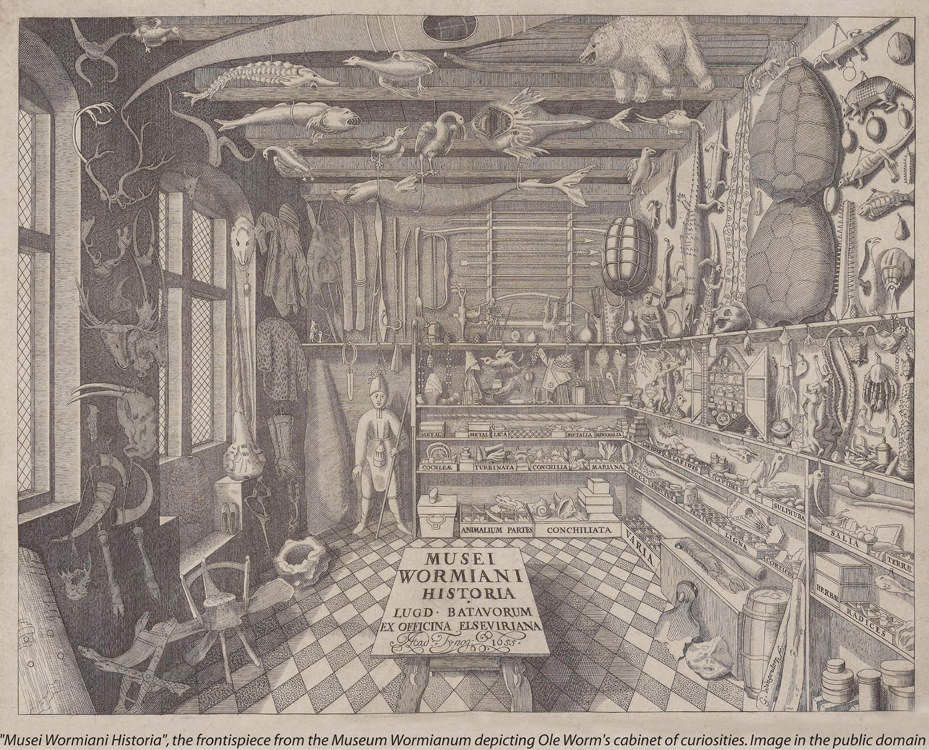 Originally, collectors cabinets were rooms full of various works of art, natural history objects, and antiquities first organized during the Italian Renaissance. Ole Worm, a Danish physician and professor at the University of Copenhagen, assembled the one shown here during the early 1600s. Some cabinets demonstrated the power and wealth of the owner, challenging the viewer to think about the connections among what might today seem to be randomly-arranged objects. Cabinets became a popular way to display objects from travels or items of personal interest. Collectors evolved into curators, classifying and interpreting the wide-ranging collections. In the same fashion, the series of cabinets or rooms of objects were the genesis of today's museums. This exhibition reflects the legacy of collectors, donors, and curators who had an affinity for or relationship with the University of Delaware.
Unless otherwise specified, all the objects and specimens on view are from the Museums Collections.
The exhibition was curated by Jan Gardner Broske, Collections Manager, Museums; and Sharon Fitzgerald, Curator Mineralogical Museum. All of the content in the gallery installation is represented in this presentation online. Assistance in research, design, and installation of this exhibition was provided by Jan Broske, Sharon Fitzgerald, Colleen Estes, Dustin Frohlich, Brian Kamen, Jaynell Keely and Kris Raser.
View this Online Exhibition