Constitution Day - Selected Items from the Thomas R. Carper Congressional papers
September 16, 2014 – September 24, 2014
Curated by Tammi Kim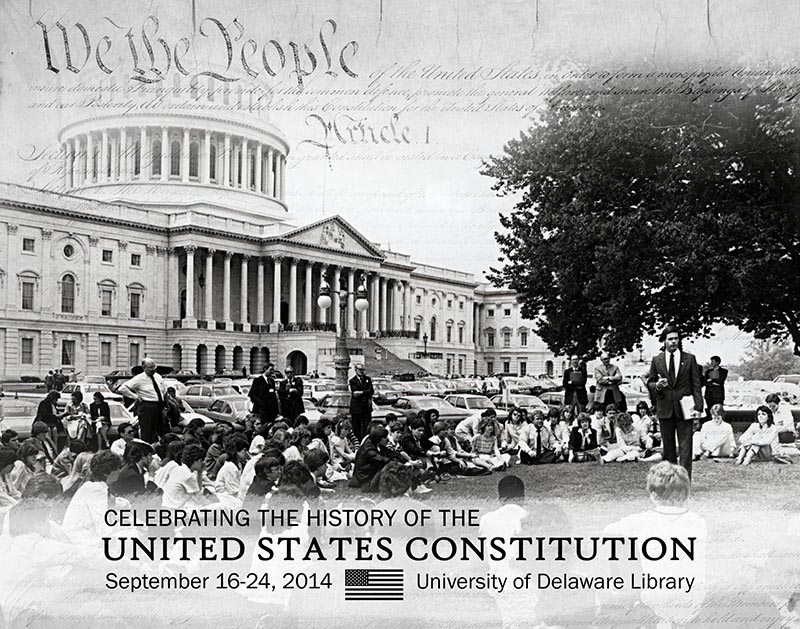 Constitution Day and Citizenship Day, observed on September 17 each year, recognize two major actions in United States history. Constitution Day recognizes the anniversary of the formal signing of the Constitution of the United States on September 17, 1787. The purpose of Citizenship Day is to recognize and celebrate all those who have attained American citizenship.
This exhibit features selected items from the Thomas R. Carper congressional papers, including Representative Carper's constituent newsletter, Capitol Comments, where he commemorated the 200th anniversary of Constitution Day. In his remarks, Carper discussed the importance of the Constitution over time, from the Bill of Rights, which prevents the government from intervening with basic freedoms, to ensuring equal representations of all states in the U.S. Congress. Most importantly, Carper emphasized that the Constitution gives citizens the freedom to choose their elected officials – a freedom which has been "retained and extended to all our citizens" and is "the living legacy of our constitution."
Selected items from the Thomas R. Carper congressional papers:
Photograph of Representative Tom Carper speaking at an unidentified event, circa 1987.


Copy of Capitol Comments constituent newsletter, 1987 September 11.
These items were on exhibit in the University of Delaware Library's Single Exhibition Case, on the first floor, between September 16 and September 24, 2014.