The Lincoln Exhibition Case is located outside the Special Collections Gallery in Morris Library. It can be viewed during Morris Library's operating hours. Please observe the University's current COVID-19 health and safety protocols when visiting. At this time, that includes wearing a mask indoors, regardless of vaccination status, and completing the Daily Health Screening ahead of your visit.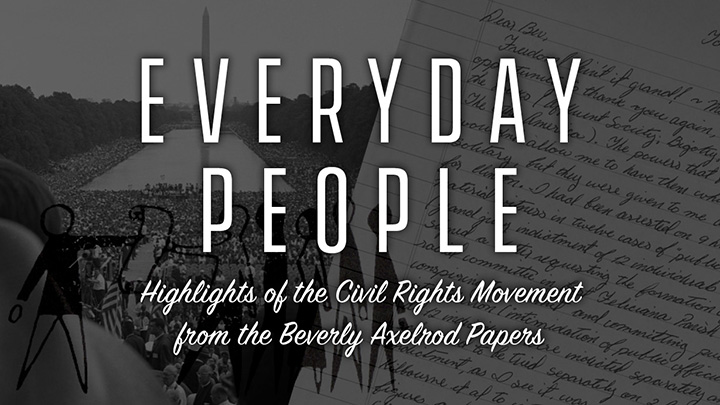 The popular narrative of the civil rights movement of the 1950s and 1960s focuses on a handful of people who have been made into larger-than-life figures, such as Martin Luther King Jr., Rosa Parks, and Malcolm X, along with a selection of events that have been immortalized by photographs and video footage, such as the March on Washington, the Montgomery Bus Boycott, and the Greensboro sit-ins.
This narrative prioritizes the most famous individuals of the movement and omits the tireless work of organizations like the National Association for the Advancement of Colored People, the Congress of Racial Equality, the Student Nonviolent Coordinating Committee, the Black Panther Party, and many others, all of which were vital for the implementation of change. It reduces the movement to a few key moments rather than acknowledging that it was a sustained attack on institutionalized oppression fought on multiple fronts. Focusing solely on the charismatic national leaders also ignores where the real power of the movement lay—in the efforts of people whose faces were not broadcast across the country, who would not have streets and buildings named after them in later years, but who were just as determined to improve the state of society as their more famous comrades. The legal and social advances of the movement were not brought about by a chosen few, but fought for by innumerable individuals who gave their time, skills, careers, and sometimes even their lives to their cause.
This exhibition attempts to shine a spotlight on the labor and experiences of ground-level participants in the movement—the difficulties they encountered, the strategies they employed, and the ways in which they took it upon themselves to do what they could to make a difference.
About Beverly Axelrod
Beverly Axelrod was a white San Francisco-based lawyer who was dedicated to civil rights and social justice activism. Over the course of her life, she was involved with such organizations as the National Association for the Advancement of Colored People, the Congress of Racial Equality, and the Black Panther Party. She also provided legal assistance for the Delano grape strike and the American Indian Movement occupiers of Wounded Knee. Her papers are open for research.
Credits
Exhibition curated by Shelby Daniels-Young, Pauline A. Young Resident, Special Collections. Graphic design elements by Jaynell Keely. Additional exhibition support provided by Dustin Frohlich.