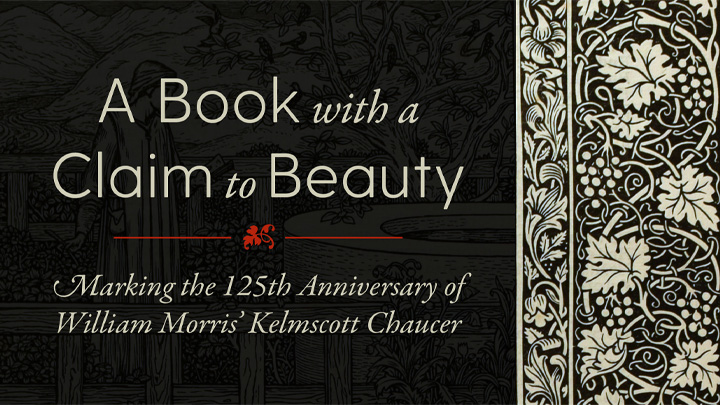 This display, drawn from Special Collections and from the Mark Samuels Lasner Collection, is occasioned by International Kelmscott Press Day, a worldwide celebration of William Morris' Kelmscott Press and the 125th anniversary of the Kelmscott edition of The Works of Geoffrey Chaucer.
Four years in the making, with illustrations by the Pre-Raphaelite artist Edward Burne-Jones and with fonts, ornaments, and layout by Morris, who oversaw every detail, the Kelmscott Chaucer, as it is commonly known, was published on June 26, 1896. It is universally considered one of the most beautiful books ever printed.
One of the protean figures of nineteenth-century Britain—poet, translator, artist (renowned as a designer of textiles and wallpapers), environmentalist, radical socialist, and leader of the Arts and Crafts movement—Morris founded the Kelmscott Press in 1891 to help reform the art of bookmaking, which he felt had declined during the half-millennium since Gutenberg. "I began printing books with the hope of producing some which would have a definite claim to beauty.," he wrote, and ended up producing more than forty titles ranging from reprints of medieval texts to his own prose romances and poetry. With an aesthetic based on fifteenth-century models, hand-printed by traditional methods but also pioneering in the use of photography in making type and illustrations, William Morris's "typographical adventure" exerted great influence on the private press movement and helped lead to the modern book.
This exhibition was curated by Mark Samuels Lasner and Alexander Johnston.