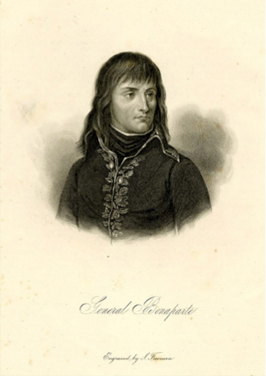 The University of Delaware Library has announced the exhibition titled "Remembering Napoleon Bonaparte," which will be on view through Oct. 2 on the first floor of the Morris Library. 
The exhibition commemorates the fact that June 18, 2015, marked the 200th anniversary of the Battle of Waterloo, at which the army of French emperor Napoleon Bonaparte suffered its final defeat.
"Remembering Napoleon Bonaparte" features several images and artifacts from the Frank W. Tober papers and the Marshals of Napoleon collection, both of which are part of University of Delaware Library Special Collections. The exhibition is curated by Curtis Small, assistant librarian, Special Collections Department.
Napoleon's defeat marked the end of a period that saw France become the dominant nation of Europe, through military victories and the creation of a vast empire.
His meteoric rise to power unfolded against the backdrop of the French Revolution. Born on the island of Corsica in 1769, Napoleon was educated at the French military academy. During the 1790s the ambitious young military officer oversaw a series of victories in France, Italy and Austria, during a period when the French Revolutionary government sought to counter threats at home and abroad.
In 1799 Napoleon seized control of France in a coup d'état, and drew up a constitution granting him full executive powers. In 1804 he declared himself emperor and established a hereditary imperial nobility. Popular at first, Napoleon's government became increasingly dictatorial over time, and was the object of increasing dissent.
Napoleon's administrative innovations created a number of the institutions of modern France. The Napoleonic Code legally enshrined revolutionary principles such as individual liberty and the lay character of the state, but also protected landed property, and granted rights to employers but few protections to workers.
At its height, the Napoleonic Empire included much of Italy and Germany, and all of Holland. His expansionist vision included plans to reconquer Saint-Domingue (present day Haiti), occupy Louisiana and extend French influence to the Indian Ocean.
France's disastrous invasion of Russia (1812) marked the beginning of the end of Napoleonic dominance in Europe.
Austria and Prussia defeated the French army in 1814. The emperor abdicated later that year and was exiled to the Mediterranean island of Elba. He escaped the following year and, during the "Hundred Days," attempted to retake power with a reassembled army.
His final defeat came at Waterloo, which today is part of Belgium, at the hands of the British and Prussian armies.
This time Napoleon was exiled to the island of St. Helena in the South Atlantic, where he died in 1821, at the age of 45. The growth and decline of the Napoleonic Empire were decisive influences on the development of modern Europe, leading to the unification of both Italy and Germany later in the 19th century.