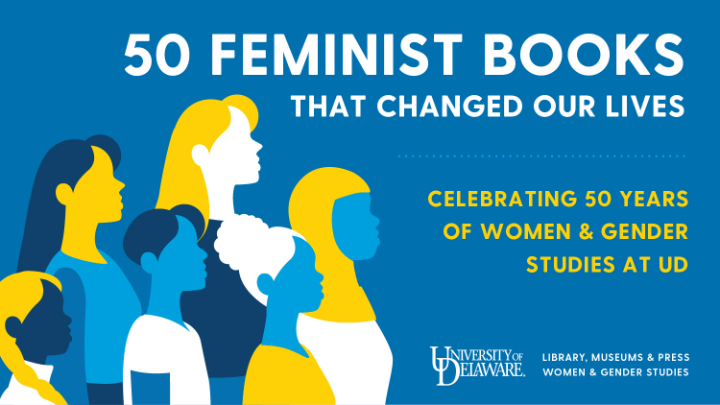 What makes a book "feminist"?
In this exhibition, which draws on the resources of the University of Delaware Library, undergraduate Women & Gender Studies majors from UD's graduating class of 2023 answer that question, as they describe fifty works from the last fifty years that have made a difference in classrooms and beyond. Their project commemorates the founding of UD's Women's Studies Interdisciplinary Program in 1973, which a half century later is now flourishing as the Women & Gender Studies Department.
The exhibition previewed online in June 2023 and the gallery installation will be on display in the Special Collections, Morris Library, at the University of Delaware on September 5, 2023 - January 12, 2024.
Credits
This exhibition was curated by students in the senior capstone class WOMS 410 taught by Professor Margaret Stetz in the Spring semester 2023. Library assistance for research, design and installation of 50 Feminist Books was provided by Dustin Frohlich, L. Rebecca Johnson Melvin, Kris Raser, Edward Redmond, and Alison Wessel, with key assistance from Mary Ladely for the online presentation and the gallery installation. Special thanks go to Professor Patricia Sloane-White, Chair of UD's Women & Gender Studies department, whose idea it was to create an exhibition that would demonstrate collaboration as a key feminist principle.
WOMS 410 STUDENTS: Caleb Beardsley, Alyssa Bergstrom, Jillian Brenneman, Maggie Buckridge, Samantha Burke, Natasha Crespo, Meolah Delinois, Abigail DeMeo, John Eichler, Fey Figueroa, Jacob Galvin, Emily Gaviria, Madeline Grunsby, Angela Hoyle, Melissa Jones, Matthew Mestre, Emily Myers, Wyatt Patterson, Edward Redmond, Anna Reynolds, Liz Savarese, Grace Sweetman, Jasper Verucci.