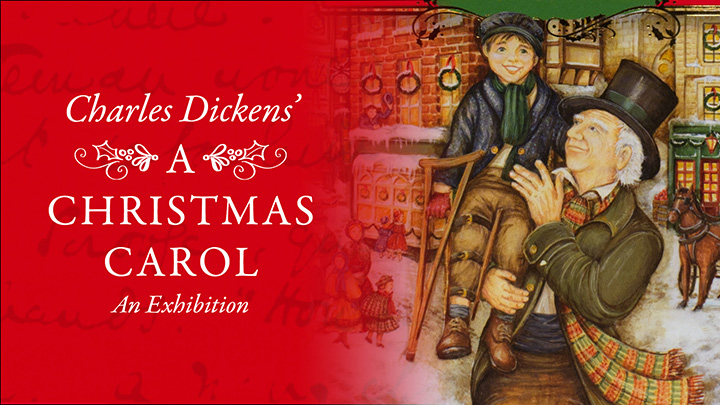 In October 1843, Charles Dickens visited Manchester to give a speech on behalf of the Athenaeum, which was founded in 1835 as a society devoted to the arts and learning. Following this event, the restless Dickens took a lengthy walk when he was struck with the idea for A Christmas Carol. He wanted to produce a tale which would draw attention to the lives of the poor, but still entertain. Citing disappointing sales for his last few books, Dickens's publishers were resistant to his proposal. Convinced that the work would be a success, Dickens chose to fund the project himself.
While Dickens had worked closely with his illustrators on previous projects, he took on an unprecedented level of participation in the overall design and production of the book. He hired John Leech to illustrate, pleased with his work at the satiric magazine Punch. Dickens set the price of the book at a modest 5 shillings despite its lavish decorative details. Even with these added responsibilities, he managed to finish writing the novella in six weeks, with the initial print run of 6,000 copies appearing on December 19, 1843. The book was an enormous hit, selling out immediately and garnering widespread critical acclaim. Dickens's publishing arrangement seriously diminished his profits, but the book's success boosted his confidence and proved to be a major turning point in his career.
Dickens also had an impact on the development of Christmas celebratory customs. After seventeenth and eighteenth century Puritans suppressed the tendency toward raucous merrymaking, nineteenth century social change further eroded traditions. Christmas primarily persisted as a quiet religious holiday. Dickens and others of the Victorian era took the revived interest in Christmas traditions and refashioned the holiday into a secular celebration promoting general goodwill and affirming the domestic ideals of home and family.
Over the 178 years since A Christmas Carol first appeared, there have been hundreds of printed editions, adaptations, parodies, and alternative versions of the story. As early as 1844, the British author C.Z. Barnett adapted A Christmas Carol into a two-act play. Beginning in 1857, Dickens performed public readings from his books, especially A Christmas Carol, which was his most popular and favorite reading. It was the first piece he performed in public, and the last before his death on June 9, 1870. Dickens adapted A Christmas Carol for performance, shortening it initially to three hours, then eventually to an hour and a half. Dickens' own prompt copy of the book survives and it is filled with his handwritten additions, corrections and deletions. A Christmas Carol has been adapted into plays, operas, television shows, and over fifty motion picture versions. The earliest cinematic adaptation, Scrooge, or, Marley's Ghost, premiered in 1901 and attempted to cover the entire Christmas Carol story in five minutes and without sound.
One of the most recent adaptations of Charles Dicken's classic is that of the University of Delaware Resident Ensemble Players. The audio presentation of A Christmas Carol was adapted by Sara Valentine and Michael Boudewyns and will stream will stream free December 8 - December 26, 2021. Further details about the production can be found at https://www.rep.udel.edu/presentations/a-christmas-carol
Credits
Exhibition curated by Tim Murray and Jaime Margalotti. Exhibition site by Dustin Frohlich. Design elements by Jaynell Keely.