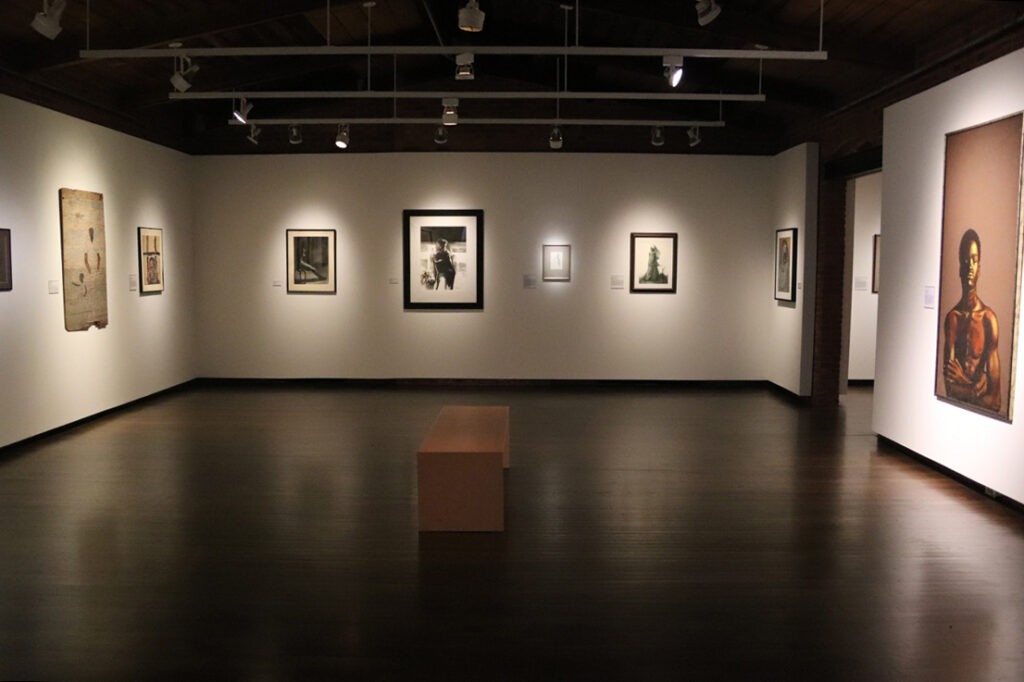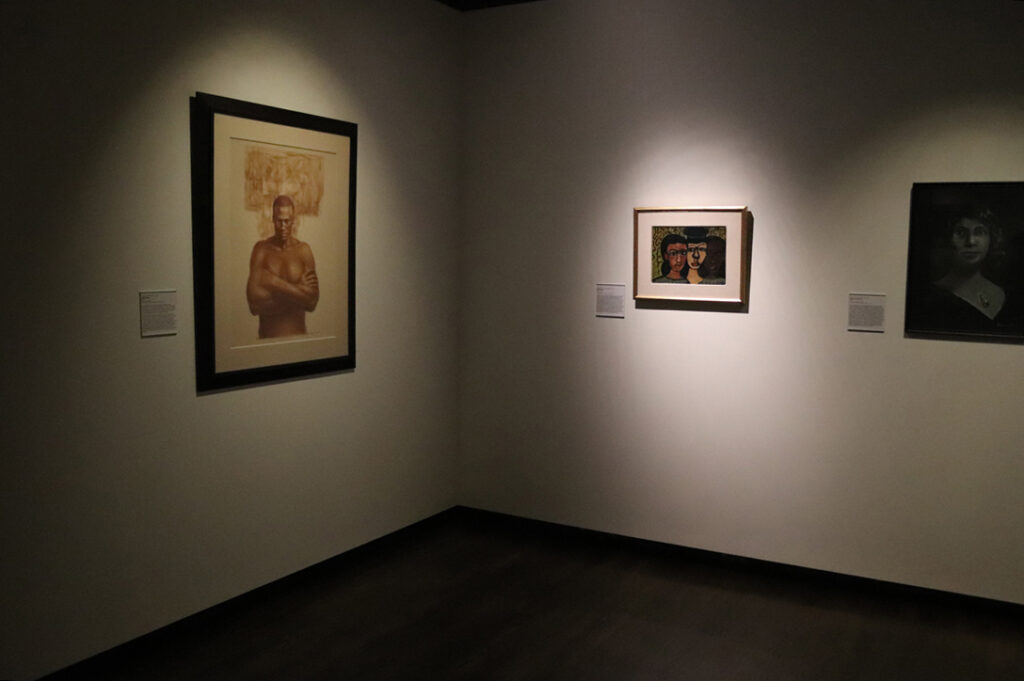 7.
Charles White (1918 – 1979)
John Henry
1975
oil wash on paper
Museums Collections, Gift of Paul R. Jones

Charles White once said that, "An artist must bear a social responsibility. He must be accountable for the content of his work. And that work should reflect a deep, abiding concern for humanity." This regard for humanity is reflected throughout White's art, which often depicts figures, whether they are working class laborers or prominent historical figures, with a distinct heroism.
In this work, White depicts the African American folk hero John Henry. According to popular ballads, John Henry was a "steel-driving man," or a man whose job was to hit steel spikes into rocks in order to make holes for explosives during the construction of railroad tunnels. Legend has it that John Henry's skill and strength was tested in a race against a steam-powered rock-drilling machine. John Henry triumphed, only to die of exhaustion immediately after. By depicting John Henry in an assertive position, with his arms crossed and a direct gaze, White emphasizes the rail worker's strength, determination and sense of defiance. White's John Henry thus serves as a hero not only for African Americans, but also for all oppressed peoples.
8.
Margaret T. Burroughs (1917 – 2010)
Three Souls
1964
oil on panel
Museums Collections, Gift of Paul R. Jones

The artist and activist Margaret Taylor Burroughs was an important figure in the development of Chicago's African American artistic community. In 1961, she and her husband Charles founded the Ebony Museum of Negro History and Art on the city's South Side, as part of an effort to correct the omission of Black history from the city's educational establishment. The museum was one of the first in the nation dedicated to Black history and culture. In 1968 it was renamed the DuSable Museum after Jean Baptiste Point du Sable, a Haitian fur trader and the first non-Native American permanent settler in Chicago. Today the DuSable Museum remains an important resource for African American history and culture, and a focal point for Black social activism in Chicago. In 1980, Burroughs remarked upon the significance of the museum's origins, noting that, "A lot of Black museums have opened up, but we're the only one that grew out of the indigenous Black community. We weren't started by anybody downtown; we were started by ordinary folks."
9.
James W. Donaldson (b. 1944)
Marian Anderson
1968
acrylic and pastel on paper
Museums Collections, Gift of Paul R. Jones

This portrait depicts the celebrated singer and Civil Rights figure Marian Anderson. Born in Philadelphia in 1897, Anderson became an important figure in the struggle for racial equality when, in 1939, the Daughters of the American Revolution (DAR) refused permission for Anderson to sing to an integrated audience at Constitution Hall in Washington, D.C. In response, then-First Lady Eleanor Roosevelt and President Franklin D. Roosevelt helped arrange for Anderson to perform an open-air concert on the steps of the Lincoln Memorial. On Easter Sunday, 1939, Anderson sang before a crowd of more than 75,000 people of all races, with even more people listening on the radio. After this groundbreaking event, Anderson continued to break barriers for people of color within the United States, and in 1955 she became the first Black person, American or otherwise, to perform at the Metropolitan Opera in New York. In this work, Donaldson has depicted a young Anderson wearing a simple pendant necklace similar to one owned by the singer, which suggests that the artist used a photograph as the source for his portrait.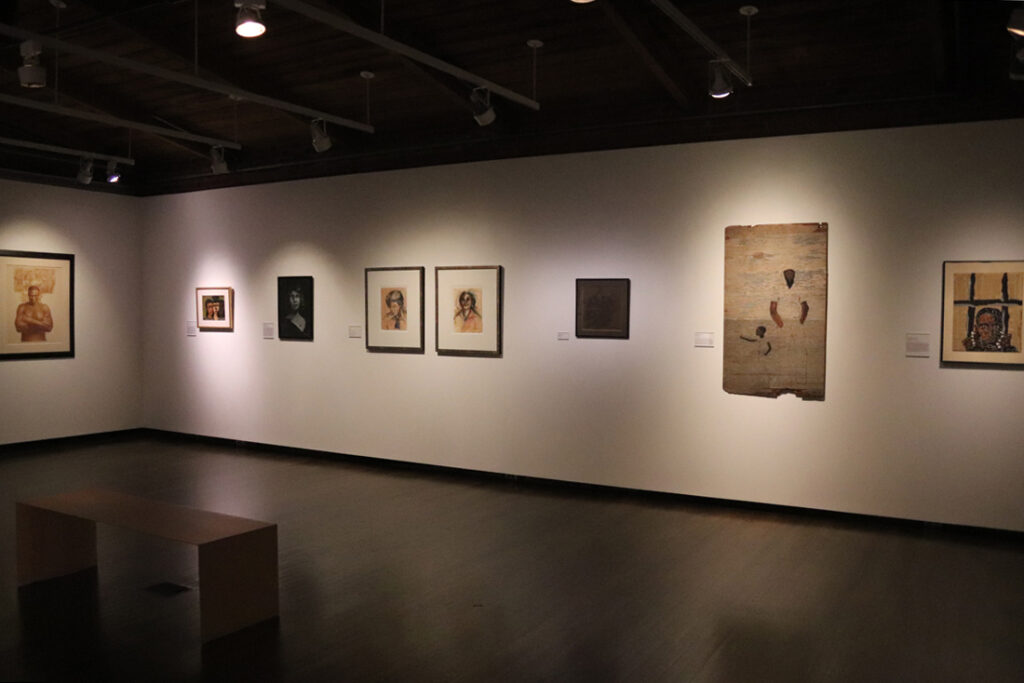 10.

Paul Gary (b. 1939)
Left:
Linda
2002
watercolor and charcoal on paper
Museums Collections, Gift of Paul R. Jones

Right:
Proud Lady (Frances / Frankie)
2002
watercolor and charcoal on paper
Museums Collections, Gift of Paul R. Jones
11.
Evelyn Mitchell (b. 1926)
Celebration
1974
pastel on paper
Museums Collections, Gift of Paul R. Jones
12.
Walter Fulton (b. 1949)
Father and Son
1996
acrylic on plywood
Museums Collections, Gift of Paul R. Jones

In this delicately composed work, Fulton depicts both the connection and distance that may exist between a father and his young son. While the father looks outward, toward the viewer, the son looks in a different direction. And though the young boy mimics the gesture and stance of his father, with one hand placed in his pocket, the boy's other hand points outward, to something we cannot see. What was Fulton trying to convey in noting this subtle disconnect between generations of young Black men? To what future may the boy be looking that the father does not see?
13.
Gary Bellamy (b. 1969)
Arrested Development
c. 1993
collage on paper
Museums Collections, Gift of Paul R. Jones

In addition to the work of more famous artists, Paul R. Jones also collected works by artists about whom very little is known, including Gary Bellamy. In this powerful collage, Bellamy depicts a Black man grasping the bars of a jail cell, against a background of newspaper clippings from the Washington Post. Though the intention behind the work, including the relation between the figure and the clippings, is unknown, Bellamy's work suggests an engagement with social justice issues, and specifically the crisis of the criminalization of Black men in America. Indeed, studies have shown that Black men are six times more likely to be incarcerated as white men. Today, activist organizations like The Sentencing Project are working to end racial disparity in mass incarceration.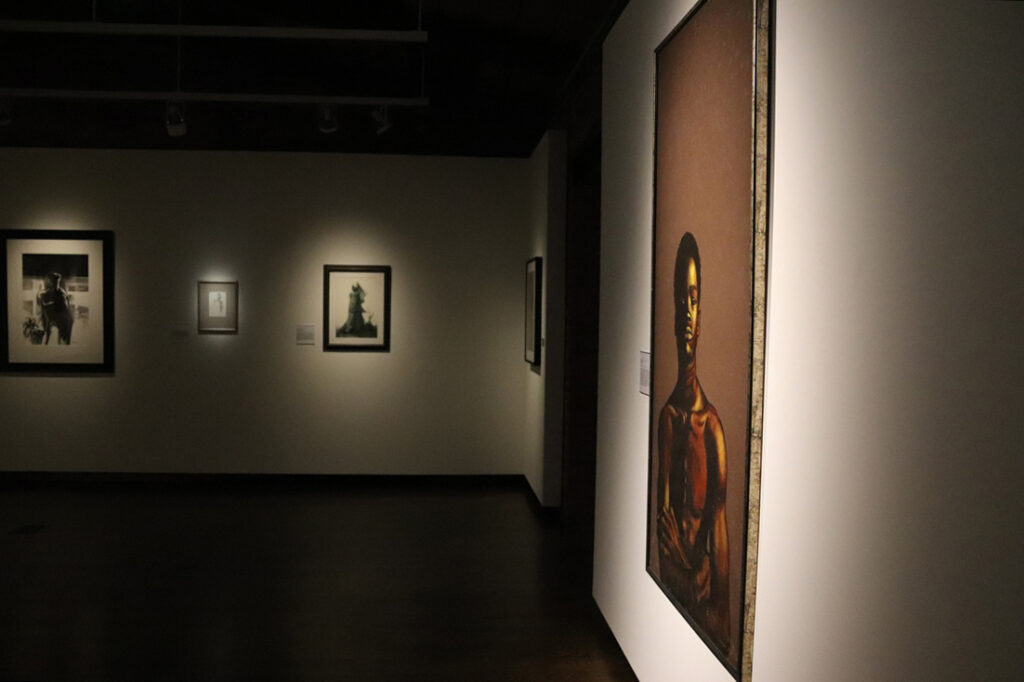 14.
Claude Cleveland
In the Studio
c. 1970
charcoal on paper
Museums Collections, Gift of Paul R. Jones
15.
Larry Walker (b. 1935)
Prelude
1989
charcoal and conté on paper
Museums Collections, Gift of Paul R. Jones
16.
Hughie Lee-Smith (1915 – 1999)
Untitled (Female)
1985
graphite on paper
Museums Collections, Gift of Paul R. Jones

A delicate figure of a woman stands with her head slightly bowed and her left hand raised to her mouth, as if interrupted in some unknown act, in this quiet work by Hughie Lee-Smith. The woman's isolation and the mystery of her gesture are characteristic of Lee-Smith's surreal works of art, which frequently depict solitary figures in spare settings suggestive of theater stages or desolate landscapes. Men, women, and children often seem frozen in place in Lee-Smith's works, creating a sense of unease. According to Lee-Smith, the loneliness and pessimism that may be felt in his works derive from his own experience with racial prejudice. "In my case, aloneness, I think, has stemmed from the fact that I'm Black. Unconsciously it has a lot to do with a sense of alienation." An academically-trained painter, Lee-Smith was elected an associate member of the National Academy of Design in New York, only the second Black member to be admitted after Henry Ossawa Tanner some forty years earlier. In 1967 Lee-Smith became a full member.
17.
Herman "Kofi" Bailey (1931 – 1981)
African Woman
1974
green conté crayon on paper
Museums Collections, Gift of Paul R. Jones

Born in Chicago and raised in Los Angeles, the artist Herman "Kofi" Bailey became concerned that there were not enough positive images of African Americans. Bailey thus decided to channel his skills as an artist into producing works that would educate and enrich the lives of Black people worldwide. Believing in the Pan-African concept that Black people around the globe, including in America, should work together to "unify and uplift" all people of African descent, Bailey used his gift for figuration to create delicate conté crayon and charcoal drawings that showed the beauty of people of color, both famous and otherwise. Bailey hoped that these images would inspire Black people around the world to seek self-determination and self-empowerment.
18.
Imaniah Shinar
(born James E. Coleman)
Ebony Queen
2001
graphite and color pencil on paper
Museums Collections, Gift of Paul R. Jones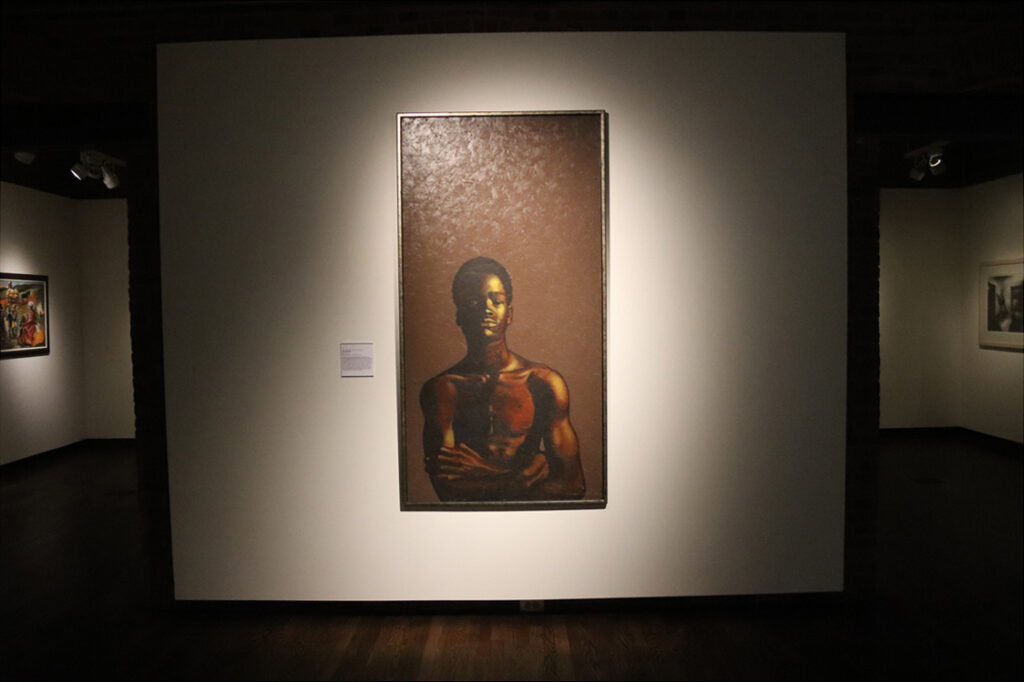 19.
Amos "Ashanti" Johnson (1950 – 2017)
Young Brother
1975
acrylic on panel
Museums Collections, Gift of Paul R. Jones

The tight framing and restrained palette, combined with the subject's nudity, create a sense of intimacy in this large-scale portrait of a young Black man. The artist Amos Johnson favored working at a large-scale. According to family remembrances, Johnson was first educated at Syracuse University, but transferred to the University of Buffalo after Syracuse would not provide him with a big enough studio to complete his monumental and ambitious works of art (another example of which can be seen in a nearby gallery). Here, Johnson captures his subject with grace and dignity. The young man's restrained posture and thoughtful gaze invite us to pause a moment, to admire the beauty that radiates beneath the delicate band of gold light that streaks across his face.
20.
Romare Bearden (1911 – 1988)
Island Scene
1984
watercolor on wove paper
Museums Collections, Gift of Paul R. Jones

Shimmering passages of green, yellow, and orange, painted in broad, fluid strokes, evoke the warmth of the Caribbean sun in this intimate scene of a young Black figure resting on an embankment. In creating this work, Romare Bearden was likely inspired by the island of St. Martin, where he established a home in the 1970s.
This work is an example of Bearden's experimentation with watercolor, though he is best known for his photo-collages, which he began in the 1960s. Bearden also served an important role in the formation of the Spiral Group, a collective of fifteen African American artists who began meeting in the summer of 1963. The goal of these artists, which also included Charles Alston, Hale Woodruff, Norman Lewis, and Ernest Crichlow, was to create art that directly responded to the Civil Rights movement, and the role that a "Black aesthetic", if it were to exist, played in a changing society. This watercolor, with its lush plays of light and color, thus demonstrates not only Bearden's mastery of various art forms, but also the artist's long-held commitment to producing diverse representations of Black life, in any medium.
21.
Ernest T. Crichlow (1914 – 2005)
Untitled (Woman, Basket of Fruit on Head)
1985
acrylic on board
Museums Collections, Gift of Paul R. Jones

Ernest Crichlow is best known for producing works of social realism, a form of art popular in the early twentieth century that focused on realistic representations of social issues and the hardships of everyday life, including the racial and social injustices experienced by African Americans.
In this work, one of many that the artist completed of a young woman laboring in a field, the bold, bright colors suggest a more optimistic view of the young worker's life. The deep blues and greens evoke a verdant Caribbean landscape perhaps inspired by the artist's ancestral homeland. Born in Brooklyn in 1914, Crichlow was the second of nine children of immigrants from Barbados.
His early career was shaped by his association with the sculptor Augusta Savage, whose studio was an important gathering point for artists of the Harlem Renaissance. Crichlow was a member of the Spiral Group as well as a founder of the Cinqué Gallery in Harlem (alongside Romare Bearden, whose work is on view nearby). Though others criticized him for limiting his subject matter, Crichlow was committed to representing the African American experience, stating that, "This is the thing that I feel most at home with."