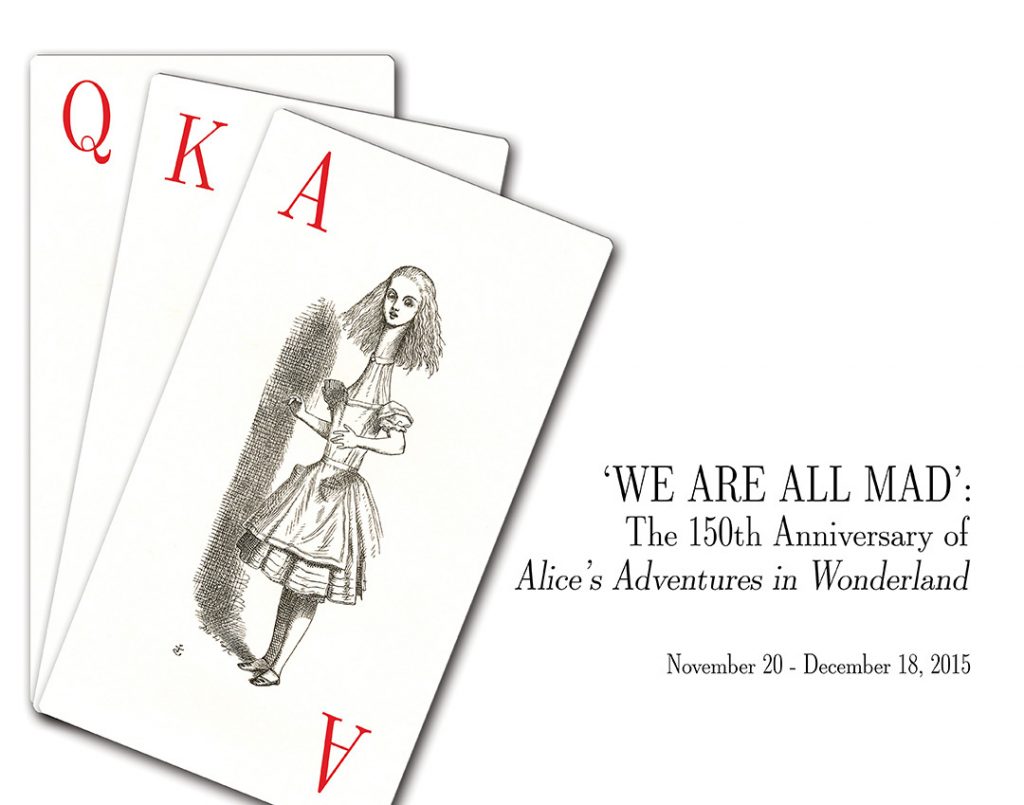 Alice's Adventures in Wonderland has delighted children and adults for a century and a half. Lewis Carroll's immortal tale of a little girl who falls down a rabbit hole has been translated into nearly 200 languages and been the subject of illustration, scholarship, parody, and pastiche. This exhibition marks the 150th anniversary of the publication Lewis Carroll's classic work.

On display is a recent library acquisition: Alice's Adventures Under Ground, a rare facsimile of the manuscript draft of the novel, which Carroll wrote and illustrated. He then presented it to young Alice Liddell, to whom he first told the story on a summer afternoon in 1862. The facsimile was commissioned in 1936 by Delawarean Eldridge R. Johnson (1867-1945), who had purchased the original manuscript from famed Philadelphia bookseller A.S.W. Rosenbach in 1928. Johnson, co-founder of the Victor Talking Machine Company and one of the richest men in America, was also a great admirer of Carroll's Alice books. This extraordinary facsimile—almost indistinguishable from the original— was made in Vienna, and distributed to Johnson's circle of friends. Only about 50 copies are thought to have been produced.
Besides the Johnson facsimile, this exhibition contains two other editions of the Alice text, as well as a recent reimagining of the well-known tale.

Curated by Curtis Small and Mark Samuels Lasner.

Poster designed by Special Collections Graduate Assistant Sarah Iuli (2015-2016).