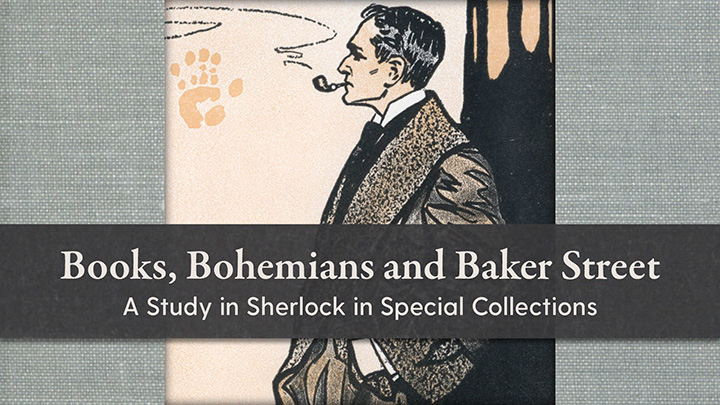 "The man who never lived – and will never die." -Orson Welles
Probably the world's best-known detective, fictional or otherwise, Sherlock Holmes stands as one of the most enduring and beloved characters in the history of literature and entertainment. Created by Arthur Conan Doyle and first appearing in his 1887 novel, A Study in Scarlet, the observant and analytical Holmes found early mass appeal with readers internationally when short stories featuring the detective were serialized in the British publication The Strand Magazine in the 1890s. Conan Doyle produced four novels and fifty-six short stories featuring the protagonist, the last appearing in 1927. Love for the character has scarcely wavered in the century to pass. Holmes, his faithful friend Dr. John Watson, and their adventures born at 221B Baker Street have been reproduced and reworked thousands of times in stage adaptations, films, radio and television productions, video games, and all manner of publications. In 2012, Sherlock Holmes was awarded the title for the "most portrayed literary human character" in film and television history by Guinness World Records, having appeared on screen 254 times and been played by over seventy-five actors.
"A Scandal in Bohemia," Doyle's first short story featuring Holmes, was published in 1891 in the July issue of The Strand Magazine. The story finds Holmes and Watson assisting a German Grand Duke, the hereditary King of Bohemia, in a quest to recover a photograph – documentary evidence of a prior secret relationship between the king and the former American opera singer, Irene Adler. With the king's upcoming marriage at stake, the detective embarks on a mission to discover the location of the photo, instigating a series of events that pit his own cunning against Adler's. The mystery is solved and the scandal is averted, but in the end Holmes is bested by an adversary he always referred to as "the woman."
The first stage adaptation of "A Scandal in Bohemia" was performed in 1899 as part of William Gillette's stage play Sherlock Holmes. Over the decades, the story has been reworked numerous times for stage, film, radio, and television.
This exhibition presents materials related to Holmes and his literary history found in Special Collections at the University of Delaware Library, Museums and Press. It is offered in partnership with the Resident Ensemble Players (REP) presentation of A Scandal in Bohemia, a newly adapted audio production from a 1945 radio play. A Scandal in Bohemia will stream from September 29 to October 17, 2021. Adapted by Denis Green and Anthony Boucher and directed by Stephen Pelinski, the audio presentation is free to stream!
Books, Bohemians and Baker Street: A Study in Sherlock in Special Collections is curated by Dustin Frohlich, Processing Archivist, and Mark Samuels Lasner, Senior Research Fellow, University of Delaware Library, Museums and Press, with the assistance of Olivia DeClark, Ph.D. candidate in English and graduate assistant in the Mark Samuels Lasner Collection. Graphic designs were created by Jaynell Keely and REP.