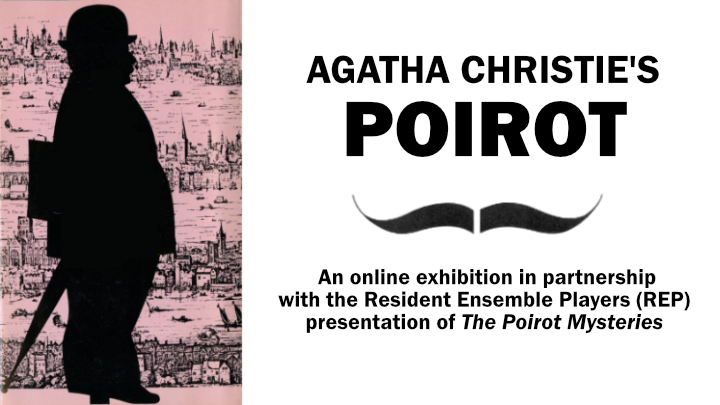 Hercule Poirot, the fictional detective famous for his fastidiously groomed mustache and the "little grey cells" of his superior mind, is one of the most beloved characters of English author Agatha Christie (1890-1976). Beginning with the 1920 publication of her first novel, The Mysterious Affair at Styles, and ending with Curtain (1975), Poirot appeared in nearly ninety of Christie's novels, plays, and short stories.
The Agatha Christie's Poirot exhibition highlights materials from the collections of the University of Delaware Library, Museums and Press. It is offered in partnership with the Resident Ensemble Players (REP) presentation of The Poirot Mysteries, newly adapted audio productions of two of Agatha Christie's popular short stories featuring Poirot. "The King of Clubs" will begin streaming on March 26, 2021, and "The Cornish Mystery" will begin streaming on April 23rd. Both will be free to stream!

Curated by Aimee Gee and Tim Murray. Online exhibition design by Dustin Frohlich.