When the Whistler v. Ruskin trial ended with a decision in Whistler's favor but only a farthing in damages awarded, Whistler soon found himself bankrupt. Aiming to enhance his reputation and restore his finances, he embraced the opportunity to leave London and accepted a commission from the Fine Art Society to complete a dozen etchings of Venice.
Although Whistler only planned to spend a few months working in Venice, he remained there for over a year. Profoundly inspired by the city, Whistler produced numerous drawings, dozens of etchings, over a hundred pastels, and several paintings. He found much-needed camaraderie among a group of young American artists who idolized their older compatriot. Whistler's innovative views of backwater canals and picturesque architecture, and his sparse renderings of the Venetian seascape, highlighted what he described as "the Venice of the Venetians." His artworks would drive a range of followers to Venice, each seeking inspiration from the famous floating city.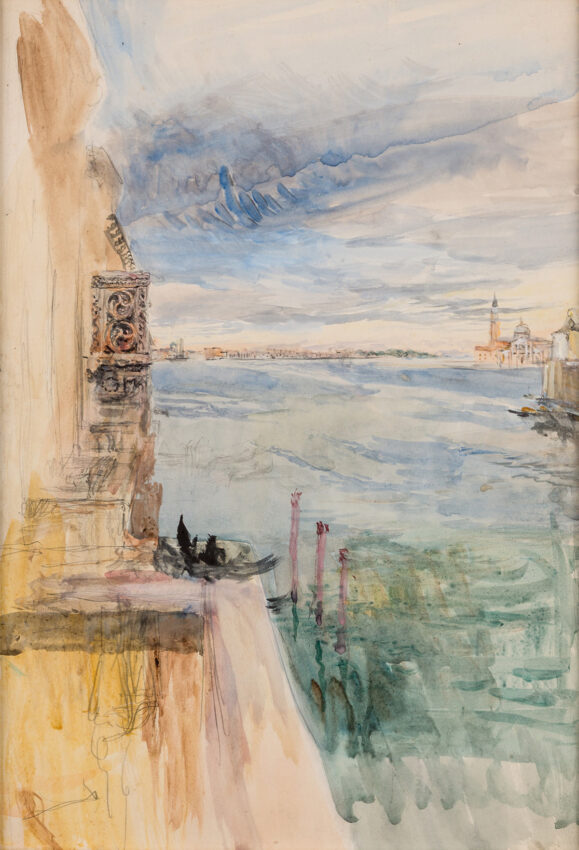 John Ruskin (British, 1819–1900)
San Giorgio Maggiore, the Basin of St. Mark's and a Balcony of Casa Contarini-Fasan, 1876
watercolor over pencil on paper, heightened with gouache with touches of pen and ink
Collection of BNY Mellon
For the Victorian public, no figure was more strongly associated with Venice than John Ruskin. He made eleven visits and published numerous books about the city. He also produced drawings that recorded details of Venetian architecture. The Ca' Contarini-Fasan, the so-called "House of Desdemona," appears on the left side of the watercolor. In contrast to the loose rendering of the sky and water, Ruskin has carefully pictured the spiral designs on the palace's famous balconies.
This watercolor was made during Ruskin's last major trip to Venice. He returned to England in June 1877 and soon published the negative review of Whistler's Nocturne in Black and Gold that prompted the Whistler v. Ruskin trial. Despite Ruskin's vitriolic reaction to Whistler's painting, their art occasionally shared surprisingly similar characteristics, including soft, dissolving atmospheres and a recurring fascination with the details of building facades.
---
James McNeill Whistler (American, 1834–1903)
The Riva, 1880
etching on paper
Museums Collections
Recent Acquisition
Whistler left for Venice in September of 1879, intending to make a dozen etchings on commission from the Fine Art Society. After spending over a year in the city, he produced some four-dozen etchings of Venetian subjects, including close-up renderings of the city's architecture and its people, as well as more expansive views like this one. As the title suggests, this is one of Whistler's two depictions of the Riva degli Schiavoni, a waterfront promenade that extends east from the Piazza San Marco. Since Whistler preferred to work directly on his etching plates, this artwork—like all of his Venetian prints—shows the cityscape in reverse.
Whistler likely made this etching from a room at the Casa Jankowitz, where he and his longtime companion Maud Franklin—who was also an artist—rented a room in the summer of 1880. Many of his young associates, including Otto Bacher, rented rooms in the building.
---
Otto Henry Bacher (American, 1856–1909)
St. Mark's, Venice, 1880
etching on paper
Museums Collections
In 1880, Whistler befriended a circle of young American artists who were studying in Venice for the summer. Otto Bacher was among this group, many of whom were enamored of the now-notorious Whistler. The two men became close and remained friendly throughout their lives. Following Whistler's death, Bacher published several articles and a book detailing his time in Venice with Whistler.
Whistler and Bacher shared an interest in depicting everyday life in Venice. In addition to this image of a woman praying at a side altar in the church of San Marco, Bacher depicted Venetian gondoliers, bead-stringers, and net-makers.
---
Walter Richard Sickert (British, 1860–1942)
Self-portrait, 1897
ink, watercolor, and wash on paper
Mark Samuels Lasner Collection
Like Joseph Pennell, Walter Sickert's interest in Venice may be attributed to Whistler. Sickert once worked as Whistler's assistant and was a longtime follower. After first visiting the city in 1894, Sickert made a handful of visits between 1895 and 1904, each of which lasted several months or more. In this self-portrait, Sickert positions himself in front of the Bridge of Sighs, one of Venice's most recognizable landmarks.
---
Joseph Pennell (American, 1857–1926)
A Watergate in Venice, 1883
etching on paper
Delaware Art Museum, Gift of Helen Farr Sloan, 1978
Exhibited Spring 2021
In 1881, Joseph Pennell encountered Whistler's Venetian etchings in an exhibition at the Pennsylvania Academy of the Fine Arts in Philadelphia. This print shows the extent of Whistler's influence upon Pennell. Both the subject—an intimate glimpse of a fleeting moment in everyday Venetian life—and the style are indebted to Whistler. Whistler was particularly drawn to palaces with elaborate grates surrounding the doors and windows. Pennell would have seen one such print, The Doorway, in Philadelphia, which likely influenced Pennell's subject matter.
---
James McNeill Whistler (American, 1834–1903)
Etchings & Drypoints: Venice, Second Series. [London]: J. M. Whistler, 1883
Courtesy, the Winterthur Library: Printed Book and Periodical Collection
Shortly after his return to London, Whistler exhibited a dozen Venetian etchings at the Fine Art Society. Additional exhibitions of Venetian pastels and etchings occurred in the following years. For the second exhibition of Venetian etchings in 1883, Whistler prepared a catalogue that foretold The Gentle Art of Making Enemies and other publications. In it, Whistler extracted selections from critical reviews, to which he appended witty responses.
Among the etchings included in the 1883 exhibition were The Riva and Nocturne: Furnace, both of which are on view in this exhibition.