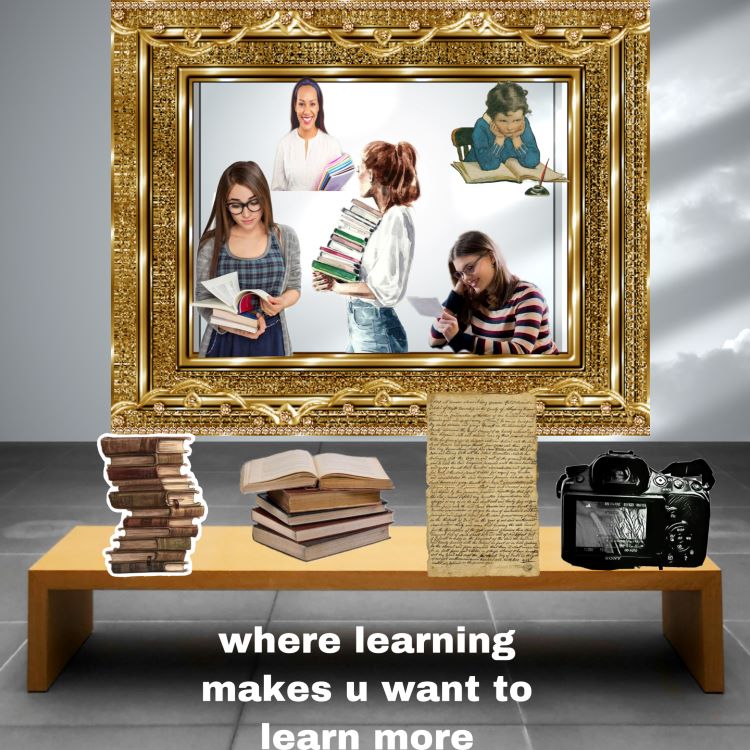 As they completed Documented: A Virtual Introduction to the Library and Museums, students were asked to listen to oral histories by immigrants from a range of historical periods, examine artwork that addressed the experience of living through tumultuous events, and explore films discussed by Vargas in Dear America. Students also chose a social issue they cared about and researched it through library resources.

In "Where Learning Makes U Want to Learn More," Sanjada Thamada positions the library and museums as places where students can take an active role in their learning. Thamada writes, "In this picture, the books, documents, and films are the ones watching the students learn. The students are the ones who are depicted as the "art" because I think it is true art to want to learn more knowledge. Instead of just standing and looking at something in the museum, as one would normally do, the people in the "artwork" are actively trying harder." The work displayed throughout this exhibition showcases students actively engaging in learning and creating.

In their poems, Alexander Marshall and Isabella describe how resources from the library and museums helped them better understand the experiences of immigrants. Discussing the oral histories from Special Collections by immigrants from Poland, Germany, and the Dominican Republic, Isabella writes:
This library is more than just
material things
This library's full of people with real stories
that might sting
Similarly, Marshall writes:
I had listened at the start
About others' stories
Ordinary people
with extraordinary experiences
is what shapes history
Isabella and Marshall recognize that primary sources such as oral histories can provide valuable perspectives on historical issues through "real stories" from "ordinary people."
In her digital reflection, Natalie McMaster discusses how artwork can also act as a primary source. She writes, "After completing the virtual Documented tour I was thinking on the ways art can be so valuable in reflecting experiences and circumstances in a given time period. It has made me think about my own artwork and how they convey my situation and feelings now. Both reflect my experience during a global pandemic, the first representing life falling out of balance into chaos and the second showing the feeling of being stuck and longing to return to normal. Art as primary sources invites emotional, circumstantial, and individual interpretations of past and present events."
Kennedy Morgan and Nicolette use their digital reflections to outline the range of resources available through the library and museums—all of which provide avenues to explore stories from a variety of perspectives.