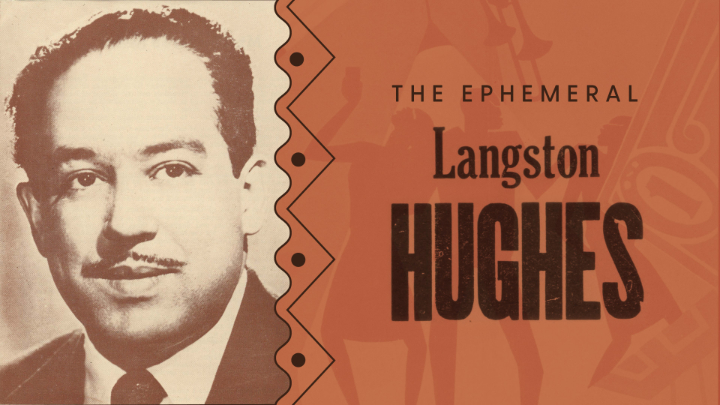 Langston Hughes (1901-1967) was a prolific producer of literature from the 1920s to 1960s, writing more than three dozen books, poetry collections, and librettos during his lifetime. He was also among the most generous interlocutors of the twentieth-century American cultural scene, maintaining a dizzying pace of collaboration with other artists. Committed to building a mass readership for his work through an unceasing circuit of performances, Hughes was on the road for four decades, staging his work for audiences at community centers and school auditoriums, at gospel concerts and workers' forums. Hughes' readings, collaborations, and performances--as well as the communities that hosted him--are documented in the Langston Hughes ephemera collection, a set of 139 items purchased in 2007 by the University of Delaware Special Collections.
While Hughes' literary manuscripts and correspondence are housed in the James Weldon Johnson Memorial Collection at Yale University's Beinecke Library, there are dozens of smaller Hughes collections at libraries across the country. Some consist of just a single manuscript donated by Hughes to one of his many librarian friends; others, like UD's collection, were assembled by dealers and contain printed matter such as fliers, programs, and playbills. Designed for teaching or exhibition, these small collections are rarely cited by literary scholars, who turn instead to the major Harlem Renaissance archives at larger repositories. This exhibition, by contrast, approaches Hughes' life and work not through the major archives of his letters and literary papers, but through the fragmented papertrail of his ephemera. What can we learn if we use these church bulletins, mimeographed fliers, or theater programs to follow Hughes from city to city, town to town?
Researching Hughes through the lens of ephemera shifts our focus away from the New York-based literary pantheon, and points instead to the broader field of African American culture as it unfolded in local bookstores, schools, churches, and political spaces. In this exhibition, selected items from the Langston Hughes ephemera collection highlight the wide range of performers--from church choirs to glee clubs--who appeared alongside Hughes, the civil rights organizations that sponsored his tours, and the audiences--from Tulsa, Oklahoma to Jackson, Mississippi--who invited the poet to their communities.
Curated by Laura Helton, Britney Henry, Maddy Starling, with text by students in ENGL 480: Into the Archives. Online exhibition developed by Dustin Frohlich and Britney Henry with designs by Jaynell Keely.