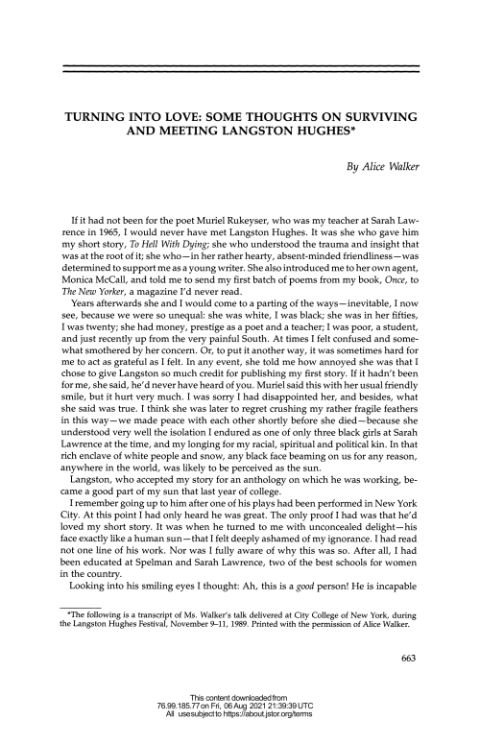 Alice Walker, "Turning Into Love: Some Thoughts on Surviving and Meeting Langston Hughes." Callaloo, no. 41, 1989, pp. 663–666. JSTOR
The item above is a transcription of Alice Walker's speech, "Turning into Love," which was published in 1989, twenty-two years after Hughes' death. Walker originally presented "Turning into Love" during the City College of New York's 1989 Langston Hughes Festival. In the speech, Walker addressed the impact Hughes had on her life. She described her first meeting with him in 1967, as well as the continued support he offered her throughout their mentorship and friendship.
Walker described Hughes as "a human sun" showing unconcealed delight at her life and work. He sent her a card at her wedding and supported her work. Even after Hughes' death, Walker described his memory as a guiding light to her. One of her first short stories, "To Hell With Dying," was published by Hughes in his 1967 anthology, The Best Short Stories by Negro Writers: An Anthology from 1899 to the Present, and gave her a start as a writer.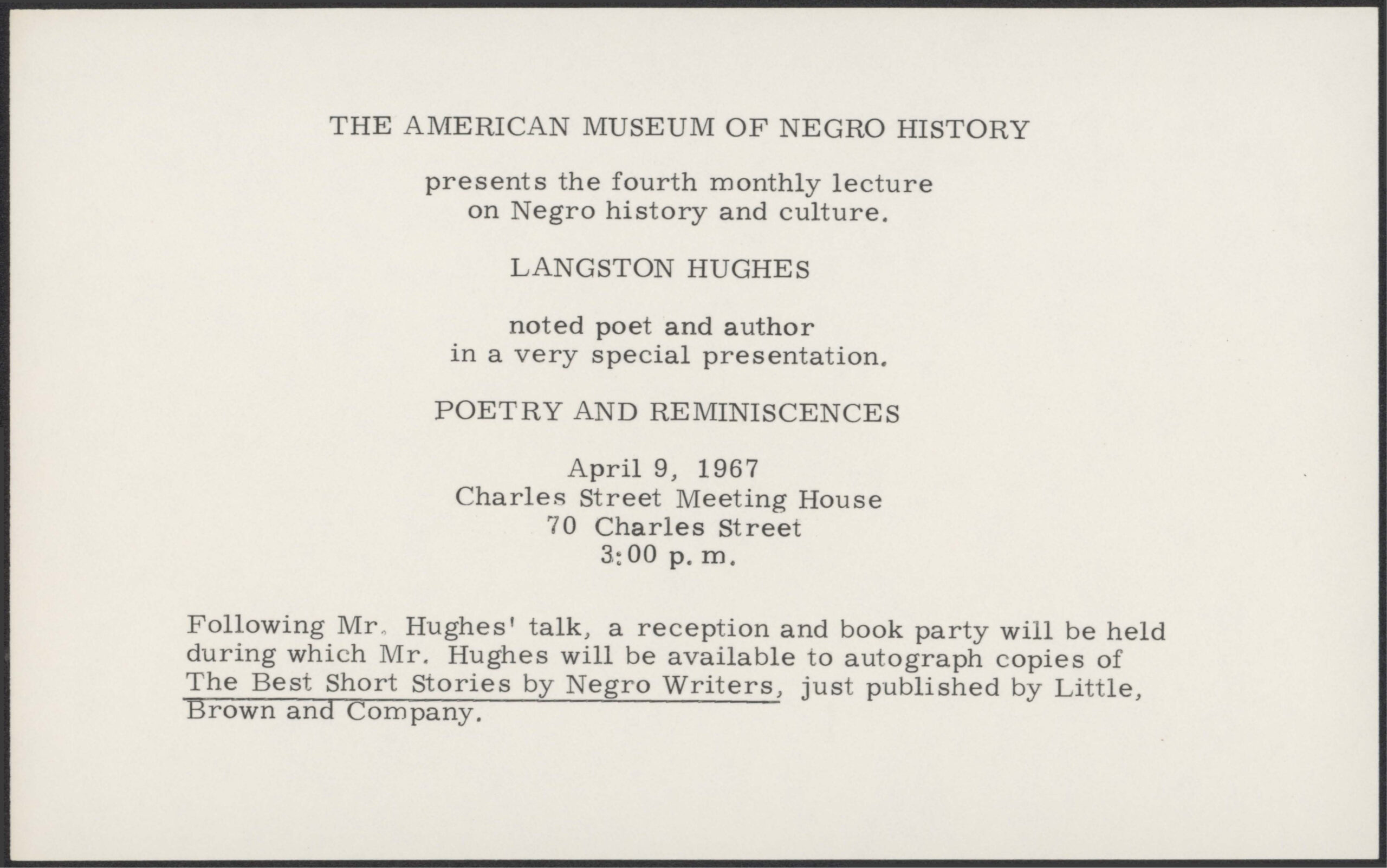 Postcard, Langston Hughes, "Poetry and Reminiscences," American Museum of Negro History, Boston, Massachusetts, April 9, 1967, Langston Hughes ephemera collection
This postcard advertises Hughes' scheduled appearance at the American Museum of Negro History in Boston, including a book party for The Best Short Stories by Negro Writers. Walker later went on to win the Pulitzer for The Color Purple, becoming the first African American woman to win that award. In the most remarkable passage of her speech, Walker wrote, "By the time I met him, Langston Hughes had turned into love." It is a fascinating sentiment, a transformation that she describes in such an affecting way as only Walker can: "some of us, as we grow and suffer and struggle and age – turn into love. . . . [W]e let go of everything that does not matter." This sentiment embodies Hughes, not just as a writer in his time, but as a cultural and personal icon and mentor who shaped the lives of many writers and activists.
Interestingly enough, despite this speech being a glowing testament to his character and love, Walker had no intentions of sugar-coating Hughes' life. She referred to an excerpt from his autobiography, in which he describes his tumultuous friendship with Zora Neal Hurston, acclaimed author of Their Eyes Were Watching God and a seminal figure of the Harlem Renaissance. In this excerpt, Hughes quipped that "girls are funny creatures," in reference to the messy and public falling out he had with Hurston. Walker responded, "I am thankful that twenty-five years after writing that line, Langston, on meeting me, showed no trace of thinking 'girls are funny creatures,' but rather responded to me as if I were his own child, my future as a person and a writer his own concern." This serves to make the rest of Walker's speech all the more remarkable. She spoke honestly about Hughes, flaws and all – and yet in her memories he still resounded as this titan of kindness and understanding.
Shortly after the event announced on this postcard, Langston Hughes died on May 22, 1967, in New York City.
-Nehuen Aon Cortassa (Class of 2021)