Atlas Chinensis
Olfert Dapper (1636 – 1689), translated and published in English by John Ogilby (1600–1676)
London, 1671
17 x 23 1/4 x 2 1/2 in. (43.2 x 59.1 x 6.6 cm.)
University of Delaware Special Collections, Folio DS808 .M76 1671
What do an emu, flying squirrels, and a giant pineapple have in common? They are featured in elaborately engraved images on the pages of Atlas Chinensis. Originally published in Dutch, then translated into English by John Ogilby, the atlas covers a range of topics, from Chinese culture to exotic plants and animals, in its over 700 pages. Geographical atlases like Atlas Chinensis were developed in the Netherlands and found popular success in Europe through extensive use of description and illustration.
The atlas uses text from a narrative account of a Dutch East India Company voyage to meet with imperial authorities in China. Interestingly, the publishers wanted the book to be less about personal experiences, and more about exotic spaces and species. To do this, they removed the personal narrative of the story, retaining only objective descriptions. The descriptions paired with engraved images allow readers to place themselves on the voyage and see those plants and animals as part of their own world. These illustrations, presented as objective facts, offer a glimpse into the interior of China, where few foreigners were allowed. The atlas presents the exotic plants and animals for the viewer's visual consumption.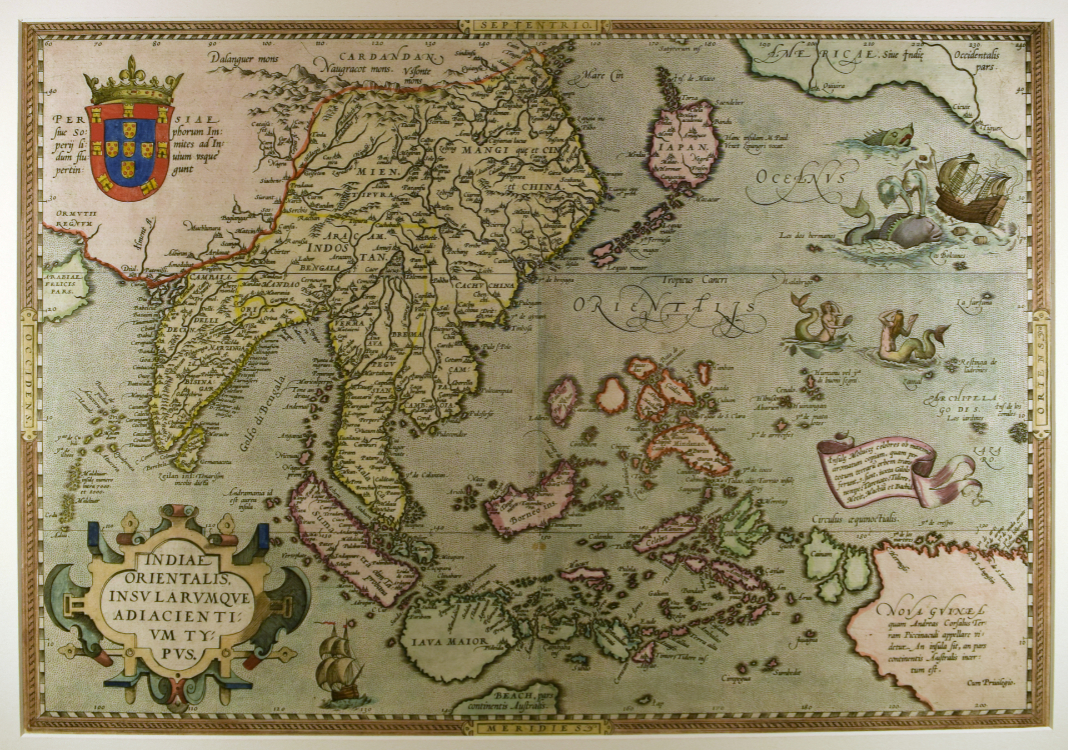 Indiae Orientalis, insularumque adiacientium typos
Abraham Ortelius (1527–1598)
Antwerp, 1588
Hand-colored engraving on paper
20 x 26 1/4 in. (50.8 x 66.7 cm)
University of Delaware Special Collections, 01815 gr
A sea route to East India sped explorers across the Atlantic in search of spice. This map by Abraham Ortelius (1527-1689), from the first modern atlas, Theatrum orbis terrarum (Theater of the World), depicts what are now parts of China, India, Oceania, and North America. Ortelius's compressed map of the Pacific expresses the limits of trade and where the edge of the known world lies through representations of sea monsters. Notice the upper right corner where a whale is attacking a boat.
Whales were known to Europeans since the ancient Greeks and were viewed both as sea monsters and trade commodities. Generally, cartographers used whales to fill in blank space on maps. Doing so also enabled cartographers to express ideas of uncertainty about unexplored parts of the world. North America, which first appeared on a European map in 1507 and was drawn more elaborately in 1562, was largely unexplored by Europeans. Sea monsters were put in places like this to warn of possible dangers. By using a whale illustration, a cartographer can say: "we do not know what is there but have an idea of what to expect."
To see an image of the 1562 map of North and South America by Diego Gutiérrez mentioned above, check out this link to the Library of Congress.
For additional information on sea monsters and their relation to the unknown, please see Mythological Creatures: Fears around the Unknown in 16th-Century Cartography by Theresa Keefe.