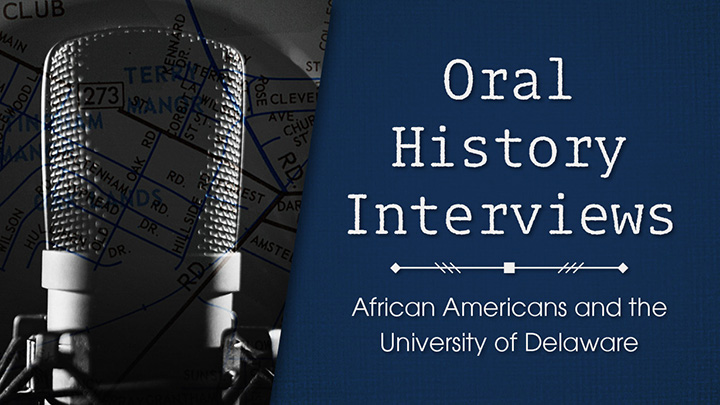 The recordings in this exhibition are drawn from interviews conducted for the course, "Oral History: African Americans and the University of Delaware," held in the fall of 2021. Under the direction of Professor Roger Horowitz, a skilled oral historian, students and the professor conducted twenty-five interviews focusing on the relationship between the University of Delaware and African Americans. Many interviewees were former University of Delaware students or employees, and others had lived in Newark in the New London Roads community. All interviewees were African American.
Interviewees were identified through a close collaboration with the Delta Sigma Theta sorority and its representative, Denise Hayman, a University of Delaware alumna and former Newark, Delaware, resident. Hayman and the sorority endorsed the project to their network and worked with Dr. Horowitz to connect the potential interviewees with their student interviewers. Students developed the principal interview themes through a series of class discussions, arranged and conducted their interviews, and selected and transcribed the interview selections that appear in this exhibit.
These selections are from interviews found in MSS 0989, HIST 268 Oral History Interviews: African Americans and the University of Delaware collection in Special Collections. If you are interested in what you hear, we encourage you to review the indexed interviews and to listen to them yourself.
Credits
Subsequent to the HIST 268 class, one of the students, Jay Reed, developed this exhibition under the direction of Roger Horowitz and University of Delaware librarian John Caldwell. She organized the interview clips into a dozen themes, edited the transcripts, and facilitated the transfer of audio and text files to the library. John Caldwell and Dustin Frohlich designed the exhibition using these materials. Graphic design elements were created by Jaynell Keely.
NB: Audio clip introductions and transcripts have been edited slightly by Special Collections for grammatical and factual accuracy, and for consistent display in the online exhibition. All text appearing in this exhibition is, truly, the work of the students of HIST 268 (Fall 2021).