New York and San Francisco
The Beats formed in New York when Columbia University student and aspiring poet, Allen Ginsberg, met writer William S. Burroughs in 1943. The following year, Ginsberg met aspiring novelist Jack Kerouac, himself a Columbia dropout. The older Burroughs became a mentor to Ginsberg and Kerouac. In the movement's formative years, Ginsberg, Kerouac, and Burroughs drew inspiration from outsiders such as Herbert Huncke, a writer, street hustler, and heroin addict, and Neal Cassady–a charismatic car thief and con artist who came to New York in 1946. Cassady became the model for Kerouac's character, Dean Moriarty, in On the Road. In 1950, Gregory Corso, freshly released from prison and determined to become a poet, met Ginsberg and joined the expanding group.
On the opposite coast in 1955, Ginsberg read his radical poem Howl for the first time at an event known as "6 Poets at 6 Gallery," hosted by painter Wally Hedrick in San Francisco. Other artists and writers who became important to Beat circles met there for the first time, including Gary Snyder, Philip Whalen, and Michael McClure. This gathering brought the Beat movement to prominence and established the poetry reading as the quintessential Beat art form, combining literature and performance.
Greenwich Village in New York City and North Beach in San Francisco were Beat hubs in the early years. Eventually, outgrowths of the movement spread to diverse locations including Cleveland, Detroit, Paris, London, Tangier, and Kathmandu.
Photographer unknown
[Allen Ginsberg at Columbia], ca. 1945
gelatin silver print
Robert A. Wilson Collection
Robert Frank (American, b. Switzerland, b.1924)
Jack Kerouac, Orlando, Florida, 1958
gelatin silver print

In 1958, the year after Jack Kerouac published On the Road, he and photographer Robert Frank drove from New York to Florida. The trip was memorialized in Kerouac's later essay "On the Road to Florida." Famously, Kerouac contributed the introduction to the 1959 U.S. edition of Frank's photography book, The Americans.
Allen Ginsberg (American, 1926 – 1997)
Bob Merims, Jack Kerouac, and Alene Lee in my living room…, 1953
gelatin silver print, inscribed by Allen Ginsberg
Robert A. Wilson Collection

Allen Ginsberg provides a glimpse into the Beat scene in early-1950s New York in this photograph of his Lower East Side apartment. The image features Jack Kerouac in profile, Kerouac's friend Bob Merims (an engineer) behind him, and Alene Lee facing the camera. Ginsberg took the picture, and according to his handwritten caption, William S. Burroughs was also present but not photographed. A writer and fixture in the Lower East Side jazz scene, Lee was the real-life model for Kerouac's lover Mardou Fox in his semifictionalized novel The Subterraneans. Disappointed with her portrayal in Kerouac's writings, Lee dissociated herself from the Beats. Only recently has her role in the history of the Beat generation begun to come into focus.
Christopher Felver (American, b. 1946)
Herbert Huncke, 1985
gelatin silver print
Christopher Felver Portrait Collection

Herbert Huncke is credited with introducing the slang word "beat" to characterize the feeling of being run-down and depleted by the demands of existence. Huncke was a street hustler, petty thief, and junkie who provided the Beats with insight into the underground culture of Times Square. He first met William S. Burroughs in 1944 when Burroughs was trying to sell a machine gun and some morphine capsules. Beyond social connections, Jack Kerouac, Allen Ginsberg, and Burroughs valued Huncke's storytelling gifts. In the 1940s, Huncke wrote furtively in his notebooks in places like subway restrooms. Two decades later, when selections from his journals were first published, Ginsberg penned an introduction to the book, praising Huncke's "delicacy of expression" and citing him for the "naked tolerance beaten into his human soul."
Elias Wilentz, ed.
The Beat Scene, 1960
Corinth Books, New York.
Photography by Fred MacDarrah. Image of Jack Kerouac reading on cover.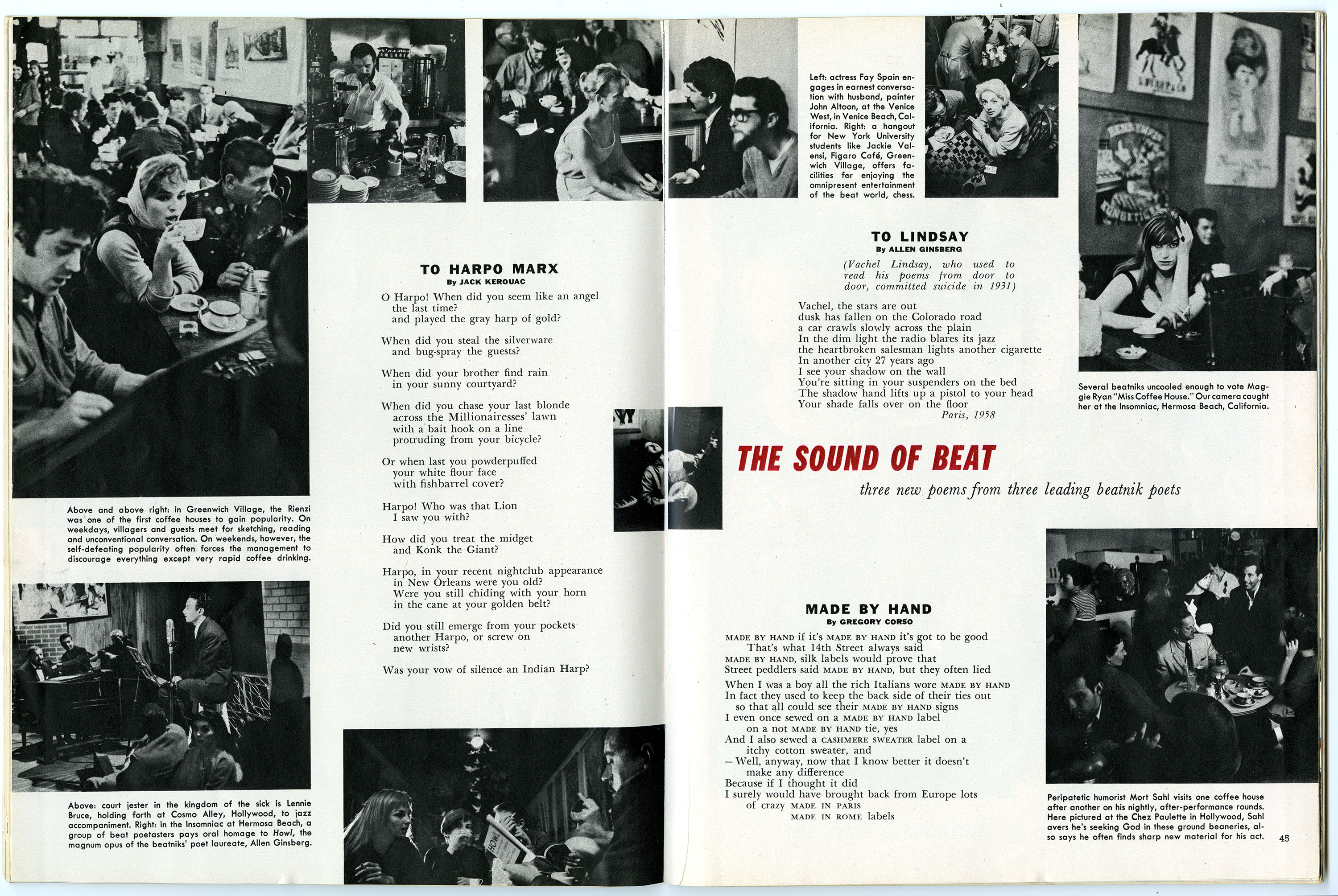 "The Sound of Beat," and "Coffeehouses of America,"
Playboy, July 1959
Allen Ginsberg Poems and Letters.
Reality and stereotype intermingled in the notion of the Beat "scene" in the late 1950s. The "Beat Scene" described the coffee houses and poetry readings, peopled by disaffected youth wearing distinctive clothing and unconventional haircuts. In this issue of Playboy, Allen Ginsberg, Jack Kerouac, and Gregory Corso were commissioned to write original poems, presented alongside scenes from coffee houses on the East and West Coasts. The photographs include Lenny Bruce performing, and a group reading from Ginsberg's Howl. Performance, community, and gathering spaces were central to the Beat ethos. This ethos carried over into later countercultural manifestations of the 1960s, such as San Francisco rock concerts, where individualistic expression merged with collective experience.
Robert LaVigne (American, 1928-2014)
Peter Orlovsky Standing on Bed, 1954
ink on paper
Robert A. Wilson Collection

When Allen Ginsberg came to San Francisco in late 1954, he visited the studio of artist Robert LaVigne. There he was struck by paintings of a tall, handsome young man—Peter Orlovsky, the artist's roommate, lover, and model. Shortly after meeting, Ginsberg and Orlovsky began a lifelong partnership together. Inspired by Ginsberg, Orlovsky would become a recognized poet in his own right. LaVigne's work at this time tended to idealize male beauty and was characterized by a flowing line inspired by Henri Matisse. LaVigne's art fit broadly within the Bay Area Figurative style then emerging, with its renewed emphasis on painting and drawing directly from life. He secured a place in Beat culture that persisted through decades of collaborations. Ginsberg called him "court painter to the Beats."
Allen Ginsberg
[Peter Orlovsky and Lafcadio Orlovsky], 1956
album page with photographs
Robert A. Wilson Collection

This page from Peter Orlovsky's personal album shows Peter with his fifteen-year-old brother, Lafcadio. The younger Orlovsky came to live with his brother in San Francisco in 1956. Later that year, they traveled with Allen Ginsberg and Gregory Corso to visit Jack Kerouac in Mexico City. In Kerouac's Desolation Angels, published years later, they are thinly fictionalized as the "Darlovsky Brothers."
Peter Orlovsky (American, 1933 – 2010)
[Allen Ginsberg at Typewriter, San Francisco], 1956
gelatin silver print
Robert A. Wilson Collection

This photograph has become an iconic representation of Allen Ginsberg at the time he was preparing Howl for publication. Taken in Peter Orlovsky's San Francisco apartment in the spring of 1956, it is often purported to show Ginsberg writing Howl. In reality, the bulk of the poem was already written by that time, so this characterization of the photograph may not be accurate. This print was Orlovsky's personal copy of the photograph. A thumbtack hole bears witness to its having once been pinned to the wall.
Allen Ginsberg and Peter Orlovsky
[Ginsberg and Orlovsky at Yosemite], 1956
gelatin silver prints
Robert A. Wilson Collection

Allen Ginsberg and Peter Orlovsky took peyote and climbed Half Dome in Yosemite National Park, an occasion memorialized in these personal photographs. Orlovsky recalled "the mountain walls looked like they were living and growing, and dying at the same time, so it was very awesome."
City Lights postcard, ca. 1967
Robert A. Wilson Collection
Lawrence Ferlinghetti's City Lights opened as a bookstore and publisher in 1953 in the North Beach section of San Francisco. In 1955 Ferlinghetti launched the Pocket Poets Series of small-format paperback poetry volumes, which would feature many of the Beats. Both a gathering place and a valuable resource for avant-garde literature, City Lights came to national prominence in 1957 when Ferlinghetti and City Lights manager Shigeyoshi Murao were charged with obscenity for selling Allen Ginsberg's Howl: And Other Poems. Designated a historical landmark, City Lights is still open today, and Ferlinghetti himself just turned 100 in spring of 2019.