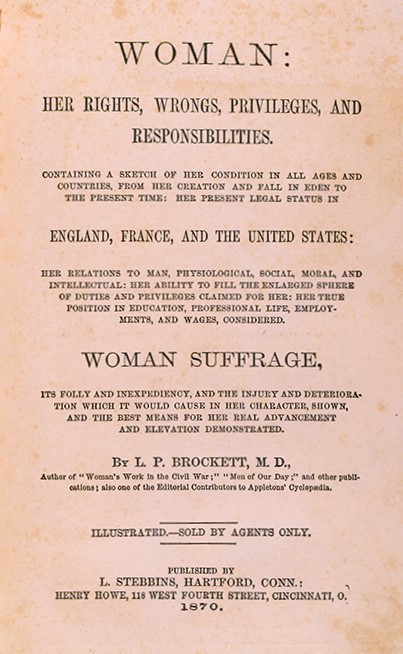 Author of Women's Work in the Civil War: a record of Heroism, Patriotism and Patience, L. P. Brockett—a Yale-educated physician—while applauding women's contributions to society nevertheless placed restrictions on their agency. Invoking women's history in his book Woman: Her Rights, Wrongs, Privileges, and Responsibilities, Brockett opposed women's rights, including the right to vote.
In the book's illustrations, he particularly stressed the fear that women's suffrage would upend the gender order. As voters, women might serve in the U.S. Senate!—a circumstance that he deemed ridiculous. They would certainly emasculate husbands who had to fulfill wifely home duties while the women went off to join the political swamp of primary voting in rooms filled with leering men, such as the caricatured Irishman on the left. Only in nurturing roles such as nurses or as teachers might women find appropriate employments.
L. P. (Linus Pierpont) Brockett (1820-1893). Woman : Her Rights, Wrongs, Privileges, and Responsibilities; containing a sketch of her condition in all ages and countries, from her creation and fall in Eden to the present time … . Hartford, Conn. : L. Stebbins, 1870.