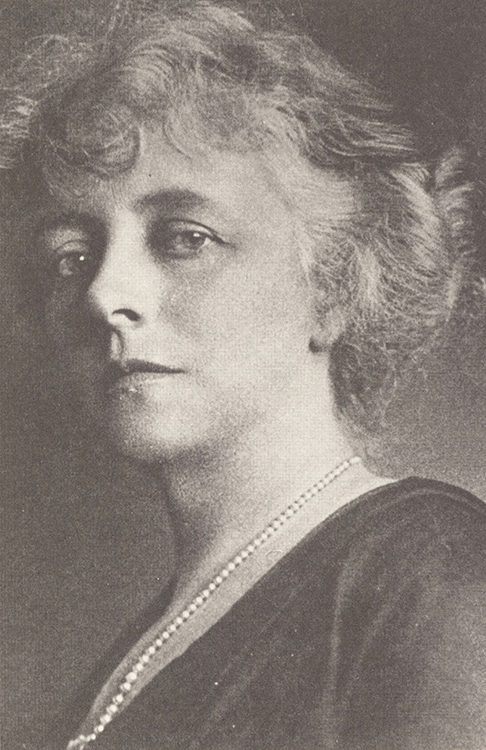 MARY WILSON THOMPSON (1867-1947) - President of the Delaware Association Opposed to Woman Suffrage, Mary Wilson Thompson was a socially prominent club woman married to a successful Wilmington businessman.
Portrait of Mary Wilson Thompson (photographic reproduction), circa 1920. Facsimile image courtesy of Delaware Historical Society.
In 1916, Mary Wilson Thompson sent a telegram to Delaware's U.S. Senator Willard Saulsbury, requesting that he use his senatorial franking privilege to send 260,000 pieces of anti-suffrage literature to West Virginia, where a suffrage referendum was under way. Saulsbury declined. In this and other correspondence, Thompson displayed the class privilege that gave her direct access to high-ranking Delaware politicians, and led her to argue that she had no need for voting rights.
Two items from the Willard Saulsbury, Jr., papers :
Mary Wilson Thompson (1867-1947). Western Union Telegram, Wilmington, Del., to Willard Saulsbury, Jr., Chicago, Ill., October 2, 1916.
Willard Saulsbury, Jr. (1861-1927). Typed letter (carbon), Washington, D.C., to Mary Wilson Thompson, Wilmington, Del., October 5, 1916.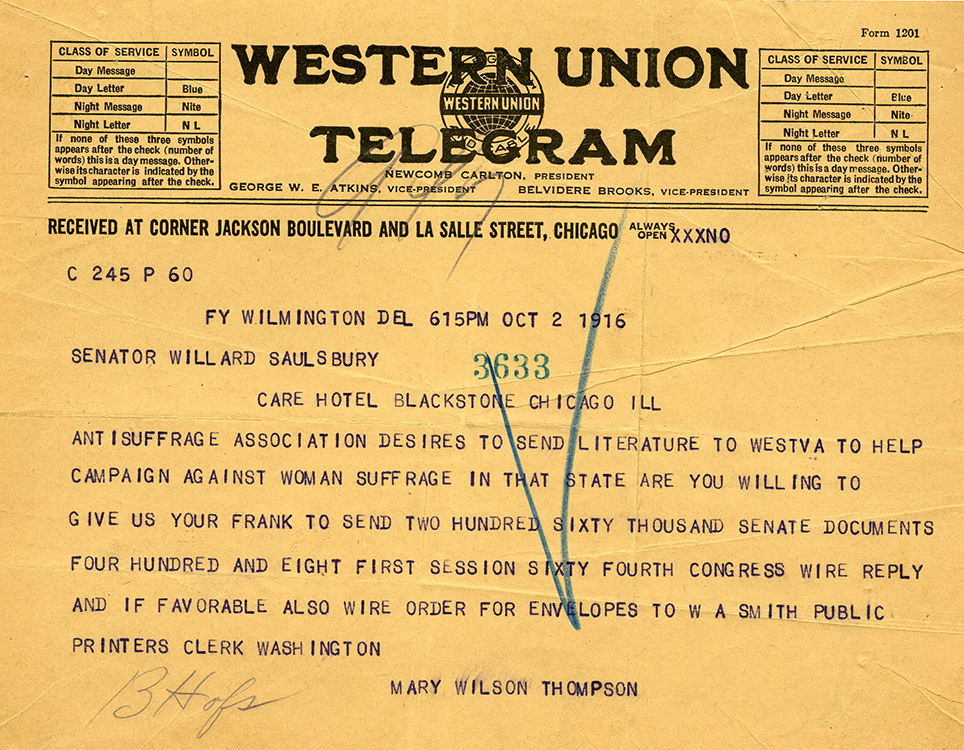 In a privately published, nine-page mock epic poem written just after the Delaware General Assembly defeated ratification of the 19th Amendment, anti-suffrage leader Mary Wilson Thompson took a victory lap, while displaying her wit and erudition.
Thompson's Lays of Dover is a nod to the British historian Thomas Babington Macaulay, author of heroic poems, including The Lays of Ancient Rome and Horatius. Portraying the ratification contest as a battle among men, she laid laurels at the feet of those who convinced legislators "that women should not vote." Thompson never wavered in her opposition to suffrage. As late as 1937, she maintained that "the country has certainly not benefited by the women's vote."
Mary Wilson Thompson (1867-1947). Lays of Dover : How Henricus Held the Caucus (With Apologies to Macaulay). Privately printed and inscribed by the author, circa 1920.