A grand suffrage procession flooded the streets of Washington, D.C., in March 1913 with enthusiastic supporters from across the country. Held on the day before President Woodrow Wilson's first inauguration, the procession spotlighted the demand for a federal constitutional amendment. The cover design of the event's official program evoked feminine action and strength as well as women's rights to occupy public, political space. Despite meticulous planning by the organizers, the event became chaotic. Some male spectators mobbed the marchers and threatened them physically; the police stood by without intervening.
Benjamin M. Dale (died 1951), artist. Official Program—Woman Suffrage Procession, Washington, D.C., March 3, 1913 (cover illustration). Facsimile image courtesy of Library of Congress.
IN DELAWARE - In advance of the massive suffrage procession planned for Washington, D.C., on March 3, 1913, "General" Rosalie Gardiner Jones (1883-1978) and a group of suffragists drew attention to the cause by trekking from New York to Washington. When the group of eleven walkers arrived in Newark, Delaware, a cadet corps from Delaware College escorted them through a crowd of well-wishers. After lunch at the Deer Park, Newark's landmark tavern, General Jones gave a rousing speech. At the sound of a bugler's call, "Ye Votes for Women Pilgrimage" headed down the road to Elkton, Maryland, and on to Washington.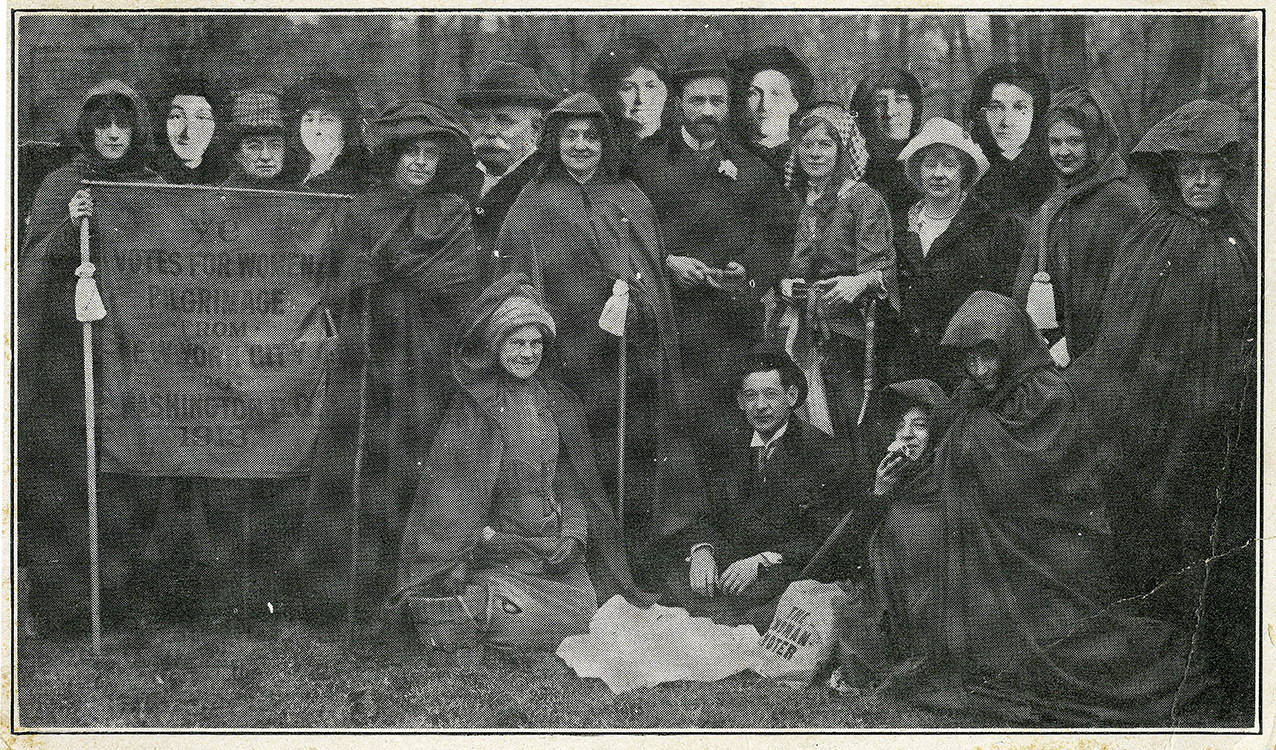 In these two images--one a doctored photograph printed onto a penny postcard that was sold to raise funds for the marchers, the other a photograph taken outside the Deer Park--the bundled-up suffrage pilgrims were surrounded by supporters and curious onlookers, including children. In the background, note the group's wagon-load of baggage, leaflets, and buttons, and the flag.
"Ye Votes for Women Pilgrimage from New York City to Washington, D.C., 1913" (photographic postcard), 1913. Gregory C. Wilson collection of African-American postcards and trade cards.
"Gen. Rosalie Jones. Suffrage Army" (photograph reprint), Newark, Delaware, February 20, 1913. Courtesy of the Newark Historical Society.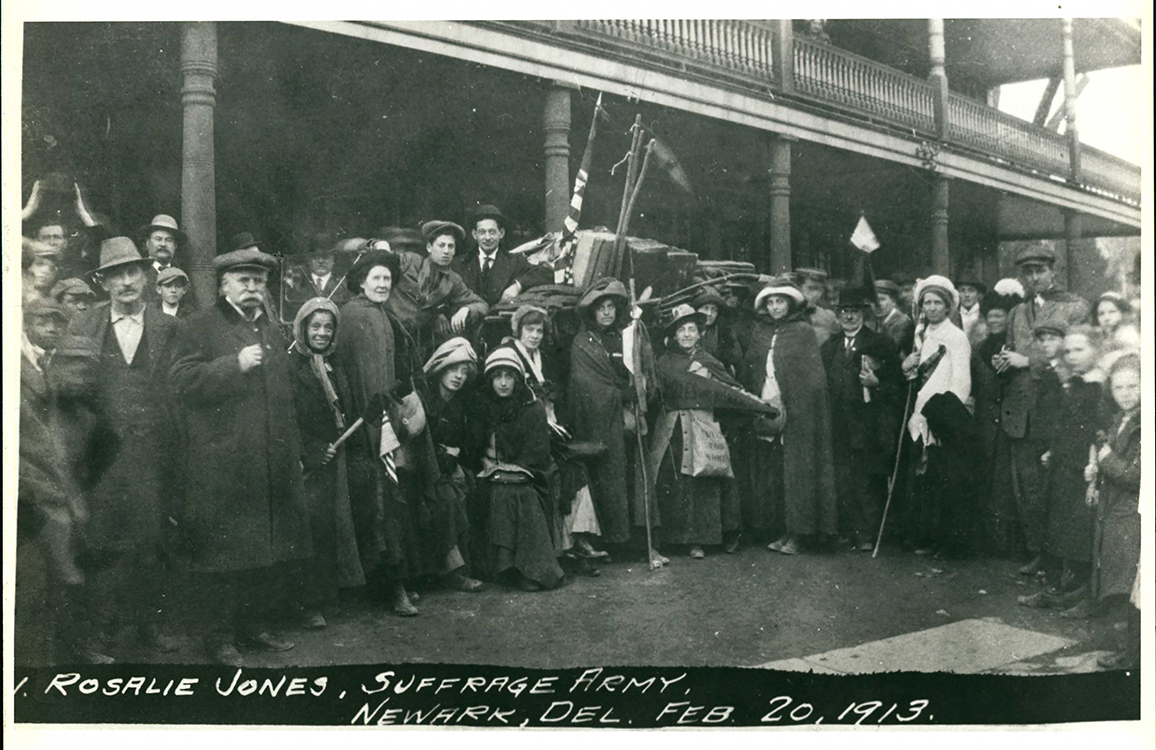 Members of the single-tax community of Arden, Delaware, proved to be among the most consistent and outspoken supporters of votes for Delaware women. Many were socialists attracted to Arden because of its foundation on the economic philosophy of Henry George. Others were devotees of William Morris's arts and crafts movement, or interested in music and theater. By definition, Ardenites were unconventional. A suffrage parade around the green in Arden, held around 1913, reflects some of that lack of conventionality; it was one of the earliest such parades in the state.
Photographic postcard (enlarged) of Arden Suffrage Parade, circa 1913. Facsimile image courtesy of Arden Craft Shop Museum.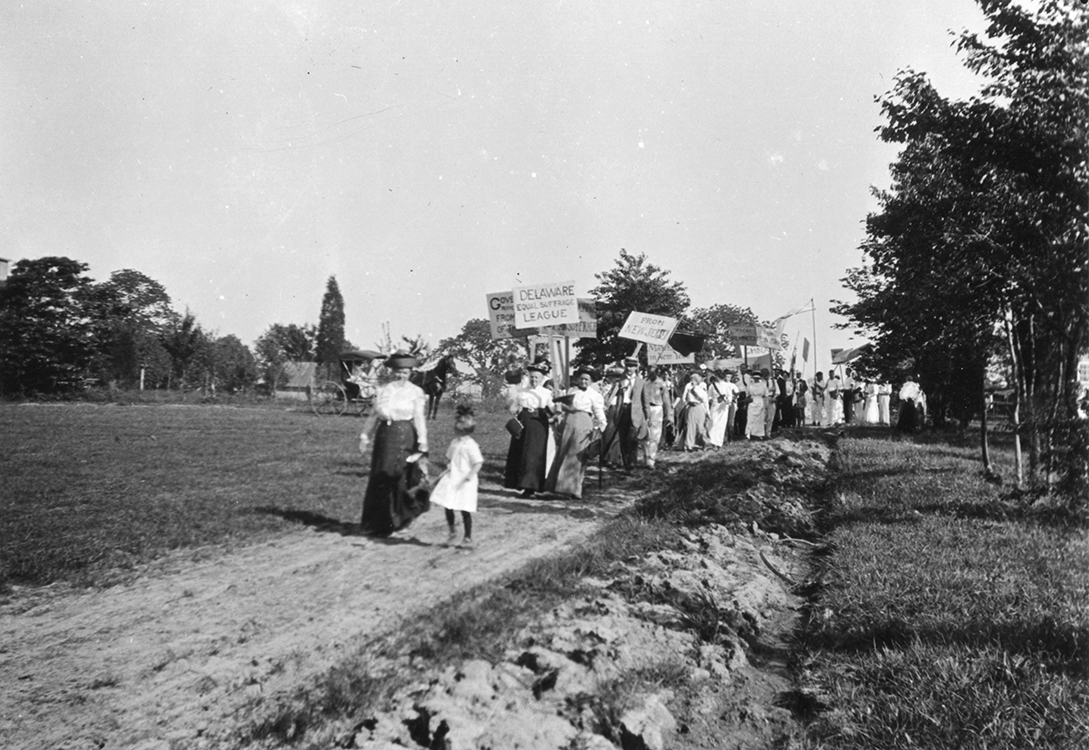 One year later, the Sunday Morning Star reported the success of a larger suffrage parade up Market Street in Wilmington.
"Suffrage Parade Striking Success." (Wilmington) Sunday Morning Star, May 3, 1914. Facsimile images courtesy of Delaware Historical Society.