Free-thinkers such as Ezra Heywood and Tennie C. Claflin rejected the authority of religious leaders, believing that many thinkers distorted the messages of the Bible and Christianity. Often denounced as radicals who would destroy basic social institutions such as marriage, they braved censorship and (in Heywood's case) arrest in order to disseminate their ideas.
Tennie C. Claflin, along with her sister, Victoria Woodhull, and other women's rights advocates such as Delaware-born Mary Ann Shadd Cary (1823-1893), seized upon the constitutional changes of the 1860s to claim citizens' rights. In her 1871 book, Claflin included a review of the U.S. Constitution and laid out the argument that women citizens were entitled to equal rights, including the right to vote.
Ezra H. (Ezra Hervey) Heywood (1829-1893). Uncivil Liberty : An Essay to Show the Injustice and Impolicy of Ruling Woman against Her Consent. Princeton, Mass. : Cooperative Publishing Company, 1871.
Tennie C. (Tennessee Celeste) Claflin (1845-1923). Constitutional Equality a Right of Woman. New York : Woodhull, Claflin, & Co., 1871.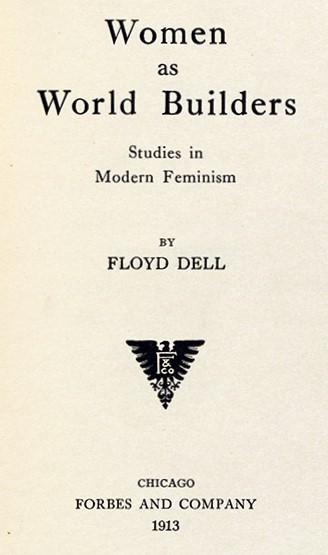 SUFFRAGENTS - Floyd Dell was a novelist, critic, writer, feminist, and suffragist. As a group, male suffragists are sometimes termed "suffragents." While working in Chicago as editor of the avant-garde Friday Literary Review, Dell wrote and edited the essays that he collected into this, his first book, in 1913. Years later, in 1937, while working for the New Deal in Washington, D.C., he inscribed a copy to an admirer, reiterating his identity as "a Feminist." The essays, as shown on the table of contents reproduced here, celebrated an international group of feminists.
Floyd Dell (1887-1969). Women as World Builders. Chicago : Forbes and Company, 1913. Author's inscribed presentation copy to Paul S. Seybolt with autograph signed letter tipped in.